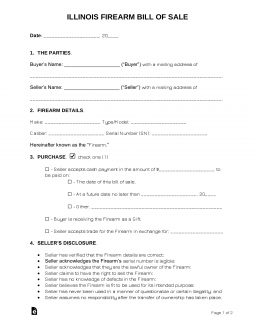 The Illinois Gun Bill of Sale is a legal document that will prove the sale and purchase of a firearm between two parties. This would also prove a change of ownership and any conditions regarding the sale of any firearm. This form will require notarization. It is recommended that no signatures be entered into this form, prior to all signatories being present before a notary. This form will require the signatures of two witnesses outside of the seller and buyer.
Register a Gun in Illinois
In the state of Illinois, gun laws are strict and strictly enforced. Before one may even purchase a firearm in Illinois, you must get a Firearm Owner's Identification card. This is well known as a FOID card. You may apply for a FOID card through the Illinois State Police Website. It could take up to 50 days (sometimes longer)to acquire this card and you will not be able to purchase a firearm nor carry a concealed weapon without being charged with a felony offense if you are not in possession of this particular identification even prior to the purchase of a firearm. You will not receive a digital copy of the card, it will be sent by mail to the physical address you provide. In Chicago, Illinois, specifically, you must also possess a Concealed Weapons Licence for which you must appear in person to complete. You will be required to complete a firearm training course, so be prepared to pay from $100.00 to $150.00 for the course.
Where to Register – Application for the FOID card, is your registration. There is no other actual form of required registration in the state of Illinois as even if you purchase a gun from an individual, they are required by law to collect your FOID information prior to selling it to you and they must have a background check performed before they will be able to deliver a firearm to you.
Needed to Register – Since you must be eligible for a FOID card and you must be responsible to acquire a concealed weapon identification as well you will be registered and whomever you purchase from will be responsible to be certain that the firearm you purchase is reported to the state police. Here is what is required to be eligible to acquire a FOID card, Concealed Weapons License and/or a firearm in Illinois:
Be over the age of 21
For those under the age of 21, and least 18 years of age, a written letter of consent signed by the parent or guardian is to be furnished at the time the application is completed and upon submission.
The parent or guardian must also be considered eligible to acquire a FOID by their own right. They must be eligible.
No records of convictions of felonies
Not deemed as an addict to narcotics of any kind
May not have been admitted as a patient to a mental facility in the past five years
Is mentally and physically capable to properly handle a firearm
May not be an illegal alien in the United States
Has no current restraining orders issued or pending orders
No convictions of crimes including battery, assault, or other similar crimes, in which a firearm was used or found in possession of within the past five (5) years
No convictions of any kind of domestic violence, battery or similar crimes committed after January 1st, 1998
No convictions within the past five (5) years dating from January 1st, 1998
The FOID application must be presented with the proper identification (driver's license or state ID card).
The Possession of a firearm also requires any individual to have obtained and be in possession of, a FOID and this identification must be presented upon demand to any member of law enforcement. This does extend to ammunition.
Anyone under the age of 18, in possession of a firearm of any type, under Illinois firearm law, is possessing a firearm illegally and will be subject to swift and stringent action if found in possession, for your own safety and the safety of the public.
How to Write
Step 1 – Seller and Buyer Information – Provide the following information :
The Seller –
Name
Driver's License Number
Physical Address
City
State
AND
The Buyer –
Name
Driver's License Number
Physical Address
City
State
Step 2 – Firearm Details – Enter the information regarding the firearm in this section:
Make
Type/Model
Caliber
Serial Number
Step 3 – Trade/Purchase Price – Check the boxes that apply. If details are required, enter them into the lines provided:
If the first box is checked, the seller will only accept monetary payment – Enter the worded dollar amount
Enter the dollar amount in numbers
Specify the date as to when the parties have agreed that payment will be due and payable in mm/dd/yyyy format
Enter the date in which the document will be known. Enter in mm/dd/yyyy format
If the parties have agreed that payment will be made at a later date, provide the final agreed upon date in mm/dd/yyyy format
Other – If different negotiations have been agreed upon by the parties, enter a description of the final agreement (if extra room is needed add a sheet and attach it to the form
Check the box if the firearm is being provided as a gift to the "buyer"
The last box in this section will address a direct trade (if any). If this is, in fact a trade, enter brief description of the agreement with regard to the terms of the trade
Step 4 – Buyer's Disclosure – The buyer will carefully review all statements in this section. If agreed and all signatories are present before a notary public, then the buyer should continue by entering their signature into the "Buyer's Signature" line.
Step 5 – Seller's Disclosure – The Seller must read all of the statements in this section. Should the seller agree and all signatories are present before a notary public, then the buyer may continue to enter their signature into the "Seller's Signature" line
Step 6 – Signatures – All parties must provide the following:
Date the signatures in dd/mm/yyyy format at the top of this section
The Seller –
Signature
Printed Name
AND
The Buyer –
Signature
Printed Name
AND
Witness 1 – 
Signature
Printed Name
Witness 2 –
Signature
Printed Name
Step 7 – Notarization – Once the notary has identified all signatories with current ID and witnessed all signatures, he/she will then be able to complete the form as required. They shall then affix their state seal.
Make copies of the completed document to provide to all who signed, for their records
Give the original copy to the buyer