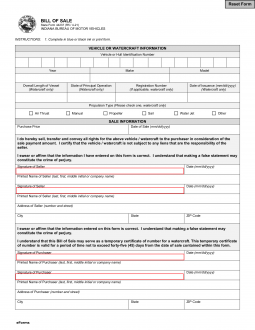 4.7 Stars | 209 Ratings
3,258 Downloads
Updated September 05, 2023
An Indiana motor vehicle bill of sale (Form 44237) records a transaction for registration purposes with the Bureau of Motor Vehicles (BMV). A bill of sale is required when transferring a vehicle's title in a private sale. Once signed by both parties, as is required, the buyer must also obtain the Certificate of Title and then will be able to register.
Signing Requirements – Both the buyer and seller must sign. No notary or witness is required.
Registering a Vehicle
Indiana residents must register all newly-obtained and unregistered vehicles within forty-five (45) days after the date the vehicle was purchased or acquired; a new resident of the state shall have sixty (60) days to register their vehicle. Registrations must be renewed once a year and expire based on a Registration Expiration Schedule. Most vehicle owners will be able to renew their registration through the Indiana Bureau of Motor Vehicles' online services.
Where to Register
Indiana residents may register their vehicle in-person at one of the many Bureau of Motor Vehicles (BMV) branches. A vehicle can also be registered online through the MyBMV portal, and in which case, documents ship out in twenty-one (21) business days.
All vehicles purchased over sixty (60) days are not applicable for online services.
Required Documents
Original Certificate of Title (see: How to Transfer a Title);
Valid Indiana Driver's License;
Approved Vehicle Inspection (applicable only for out-of-state vehicles);
Titling & Registration Fees (rates may vary);
Proof of Insurance, including:

Bodily injury (per person): $25,000.
Bodily injury (per accident – multiple people injured): $50,000.
Property damage (per accident): $25,000.

Motor Vehicle Power of Attorney, if and when an agent shall represent the vehicle owner in any titling and registration matters.