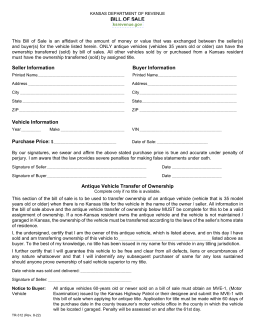 4.7 Stars | 104 Ratings
2,428 Downloads
Updated May 03, 2023
A Kansas motor vehicle bill of sale (Form TR-312) serves as a receipt of a private transaction between a buyer and seller of a certain motor vehicle. The document stipulates the price and condition of the vehicle as well as expresses the written consent of all parties involved in the purchase and sale agreement. In most cases, a bill of sale is required upon registering and titling a vehicle under new ownership through the Kansas Department of Revenue's Division of Vehicles.
Signing Requirements – Both the buyer and seller are required to sign.
Registering a Vehicle
A new owner must register their vehicle within sixty (60) days of the purchase date; any individual transferring a vehicle from out-of-state shall register their vehicle during the first ninety (90) days of moving to the State of Kansas. A vehicle's registration must be renewed annually, and expiration dates are dictated by the registered owner's last name. Registrations can be renewed online through the iKan app, the official app of Kansas State.
Odometer Disclosure Statement (Form TR-59) – Required when transferring the vehicle's title (ownership).
Where to Register
Vehicle registration must be submitted in-person at a nearby County Treasurer's Office.
Required Documents