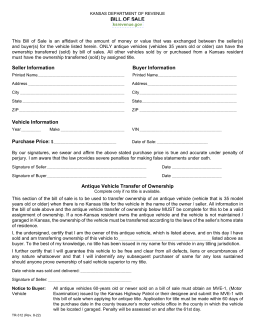 4.4 Stars | 36 Ratings
753 Downloads
Updated September 05, 2023
A Kansas bill of sale allows for a buyer and seller to record a transaction of personal property and for it to be registered in the state. It includes the parties' names, sales price, date of sale, and any other purchase terms. Once the sale is complete, the bill of sale should be signed by both parties.
Forms (4)
Vehicle Registration Forms
Signed Certificate of Title;
Motor Vehicle Examination Certificate (Form MVE-1), if purchased from a different state or has an out-of-state title;
Valid Kansas Driver's License
Registration Fees (rates may vary);[1]
Proof of Insurance, including:

Name of the insurance company;
Policy number;
Owner's Namer;
Effective and Expiration Date of Coverage;
Year, Make, and VIN of the vehicle;

Motor Vehicle Power of Attorney, if an agent will represent the vehicle owner in any matters.
Boat Registration Forms
Sales Tax Receipt or Form ST-8B Tax Exempt Form (only for vessels purchased at a dealership);
Photo or Pencil Tracing of Hull Identification Number (for vessels manufactured after 1972);
Valid Kansas Driver's License or Proof of Identity; and
Registration Fees ($42.50 for all vessels).[2]
Sources