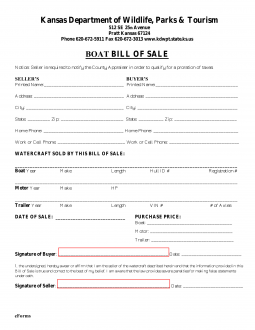 4.7 Stars | 15 Ratings
308 Downloads
Updated May 31, 2022
A Kansas boat bill of sale provides the details of a boat/vessel purchase and sale agreement between two (2) or more parties. These parties, usually a private seller and buyer, must state the vessel's basic information as well as the agreed-upon purchase price when creating the bill of sale document. Upon registering the vessel under their name, the new owner must present this document to the Kansas Department of Wildlife, Parks and Tourism (KDWPT) in order to prove the legally-binding transfer of ownership.
Signing Requirements – The buyer and seller must each sign the document.
Registering a Boat
All motorized and sail-powered vessels must be registered and numbered with the Kansas Department of Wildlife, Parks and Tourism (KDWPT). Nonresidents operating their vessels in Kansas waters are exempt from registering if they do not exceed sixty (60) consecutive days; otherwise, the vessel must be registered with the KDWPT. All registrations are valid for three (3) years, expiring the third year on the date of initial registration. Owners may renew online through the KDWPT's Renewal Portal, by phone (620-672-5911), via mail to address printed on the renewal notice, or in-person at the location seen below.
Note: Private sellers must notify the KDWPT of the sale within fifteen (15) days of the transfer of ownership.
Where to Register
New owners must register their newly-acquired vessel with the Kansas Department of Wildlife, Parks and Tourism (KDWPT) one of the following two ways:
(1) In-person at either a State Park location, a Regional Office, or at participating Boat Registration Agents; or
(2) By submitting all documentation and applicable fees to the address below:
KDWPT Pratt Operations Office
ATTN: Boat Registration
512 SE 25th Ave
Pratt, KS 67124.
Required Documents
Sales Tax Receipt or Form ST-8B Tax Exempt Form (only for vessels purchased at a dealership);
Photo or Pencil Tracing of Hull Identification Number (for vessels manufactured after 1972);
Valid Kansas Driver's License or Proof of Identity; and
Registration Fees ($42.50 for all vessels).