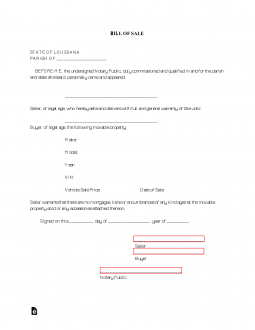 4.8 Stars | 116 Ratings
2,080 Downloads
Updated February 21, 2023
A Louisiana motor vehicle bill of sale provides information regarding the purchase and sale of a vehicle between a dealer and an individual(s) or between two (2) private parties. A bill of sale serves as legally-binding evidence a transaction in which the vehicle's ownership changed from one party to another took place. New owners must show proof of purchase upon transferring the vehicle's title and when registering it under their name at the Office of Motor Vehicles (OMV).
Signing Requirements – Buyer and seller must sign before a state-recognized notary public.
Registering a Vehicle
All newly-acquired vehicles must be registered within forty (40) days of purchase; when transferring an out-of-state vehicle, the owner shall have thirty (30) days to register after moving. Registrations in the State of Louisiana expire every two years and can be renewed online through the Office of Motor Vehicle's online portal.
Odometer Disclosure Statement (Federal Form) – Required to verify the vehicle's mileage at the time of registration.
Where to Register
Documentation may be sent via mail or submitted in person at a local Office of Motor Vehicles (OMV).
Required Documents
Original Certification of Title (if lost, use Form 1799);
Valid Louisiana Driver's License;
Certificate of Inspection from an accredited station;
Proof of Insurance with minimum requirements being:

$15,000 of bodily injury coverage, per person;
$30,000 of bodily injury coverage, per accident;
$25,000 of property damage coverage;

Motor Vehicle Power of Attorney, if an agent will represent the vehicle owner in any titling or registering matters.