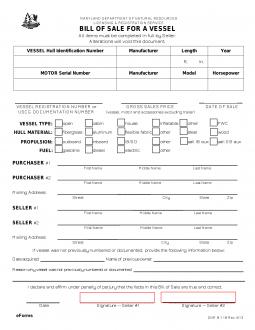 4.6 Stars | 14 Ratings
221 Downloads
Updated September 15, 2023
A Maryland boat bill of sale is a legal document that provides proof that a watercraft has been legally sold and acquired between a dealer and individual or two (2) private parties in the State of Maryland. This form includes information about the buyer, seller, and vessel that are required for registration.
Signing Requirements: The seller must sign the bill of sale. 
Registering a Boat
A new boat owner has thirty (30) days from the date of purchase to register it with the state of Maryland. Registration renewal is available online through the Department of Natural Resources licensing and registration service or through the Motor Vehicle Administration eStore. Boat owners can also renew their registration in-person or by mail at a DNR service center.
Where to Register
New registrations can be applied for in-person or by mail at a Maryland Department of Natural Resources service center.
Required Documents
Certificate of Title;

Manufacturer Certificate of Origin (if brand new); and