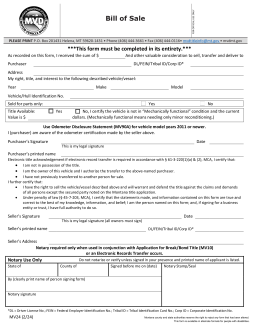 4.8 Stars | 112 Ratings
2,793 Downloads
Updated September 12, 2023
A Montana motor vehicle bill of sale is a document that proves the legal sale and purchase of a motor vehicle in the State of Montana. It provides all necessary information about the seller, buyer, and vehicle for registration purposes. This form does require notarization.
Signing Requirements – Both the buyer and seller both must sign.
Registering a Vehicle
Owners have sixty (60) days to register their vehicles with the state after moving or purchasing a vehicle.[1] A vehicle owner has the option to register their vehicle for one or two years,[2] or if the vehicle is eleven years old or more, they can register it permanently.[3] They can renew online with the Motor Vehicle Division, or in person at their local county treasurer's office.
Where to Register
Owners can register their vehicles at their local county treasurer's office.
Required Documents
Sources