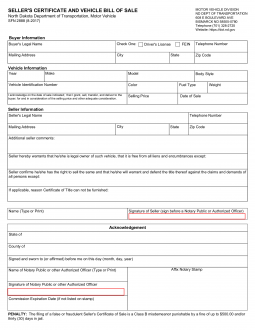 4.5 Stars | 2 Ratings
135 Downloads
Updated September 13, 2023
A North Dakota motor vehicle bill of sale is a legal document used to prove the sale and of a vehicle in the State of North Dakota. The form shows information pertaining to the buyer, the seller, the vehicle, and serves as proof of a change of ownership. This document must be notarized.
Signing Requirements – Seller (only) is required to notarize.
Registering a Vehicle:
A vehicle owner has five days from the date of acquisition to register the vehicle.[1] Registration is valid for one calendar year. Renew registration at any self-service kiosk located across the state.
Where to Register
Vehicle owners can register their vehicles at any DMV location.
Required Documents
Sources