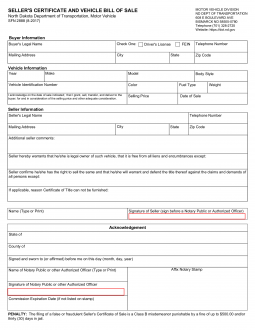 The North Dakota Bill of Sale Forms are considered legal documents in the state of North Dakota that prove the legal sale and purchase of specific items. The documents will provide various information regarding the identification of items being sold and purchased, information regarding the seller and the buyer as well, they will provide proof that there has been a change of ownership. Some of the documents may require notarization.
Types
---
Boat Bill of Sale – For the purchase and sale of a watercraft from one party to another.
---
General Bill of Sale – For the transfer of possession of any type or personal property.
---
Firearm Bill of Sale – A gun may be conveyed through this document and a buyer willing to pay the price approved by the seller.
---
Vehicle Bill of Sale (SFN-2888) – Document that is needed when registering and transferring the title from the seller to a buyer.
---
North Dakota Boat Registration Forms
North Dakota Vehicle Registration Forms
A completed  Application for Certificate of Title & Registration of a Vehicle (SFN 2872)
You must provide proof of your legal name ie: Valid driver's license, Non-driver ID card, Any document that confirms your  legal identity
Your signed vehicle title and a 5% excise tax as required.
If you do not have the title because you're financing your vehicle provide the following:
Name and address of the lien holder
Loan account number.
Out-of-state vehicle registration
Proof that you have paid or remitted the 5% excise tax
If you're registering a new vehicle, you will require a Certificate or Origin and an Odometer Reading statement from the dealer
Be prepared to pay all registration fees