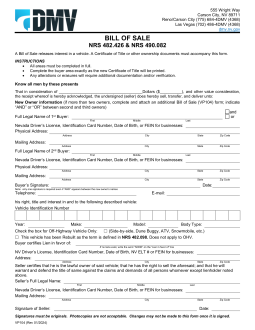 4.6 Stars | 58 Ratings
925 Downloads
Updated September 12, 2023
A Nevada motor vehicle bill of sale is a legal document that is required in the State of Nevada as proof of a legal sale and purchase of a motor vehicle. This form also proves a change of ownership and provides all necessary information needed about the buyer, seller, and vehicle in order to obtain titling and registration.
Signing Requirements – The buyer and seller are required to sign.
Registering a Vehicle
Owners of a new vehicle and vehicle owners that recently moved to Nevada have 30 days to register their vehicle before incurring penalties.[1] Registration is valid for 12 months.[2] Owners can renew their vehicle registration online at the Nevada DMV's website. They can also renew on self-service kiosks in various Nevada DMV offices and private business partners throughout the state. If they have to renew in person, they can do so by making an appointment at one of the following locations: Carson City, Henderson, Las Vegas, and Reno.
Where to Register
Owners can process their initial registration on the DMV website.
Required Documents
Certificate of Title (duplicate titles can be obtained by applying through the

Nevada DMV

)

;

Valid driver's license;

Nevada Motor Vehicle Power of Attorney

must be included if a person other than the owner registers the vehicle on their behalf;

Registration Fees

; and

Proof of Insurance with

Minimum Requirements

:[3]

$20,000 for the destruction of property;

$25,0000 for bodily injury or death to one person (single accident); and

$50,000 for bodily injury or death of two or more persons (single incident).
Sources