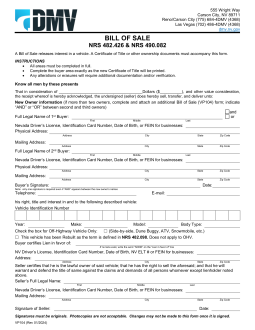 5.0 Stars | 22 Ratings
291 Downloads
Updated July 19, 2023
A Nevada bill of sale is a document that records the transfer and possession of personal property, most commonly related to a motor vehicle. A description of the property, sales price, and the parties' information should be included in the form.
After completing, the buyer will be required to keep a signed copy if they are to register a motor vehicle (with the DMV).
Forms (4)
Vehicle Registration Forms
Certificate of Title (duplicate titles can be obtained by applying through the Nevada DMV);
Valid driver's license;
Nevada Motor Vehicle Power of Attorney must be included if a person other than the owner registers the vehicle on their behalf;
Registration Fees; and
Proof of Insurance with Minimum Requirements:

$20,000 for the destruction of property;
$25,0000 for bodily injury or death to one person (single accident); and
$50,000 for bodily injury or death of two or more persons (single incident).
Boat Registration Forms
Certificate of title or manufacturer's statement of origin;
Proof that sales tax has been paid;
Registration fees; and
Social security number.
Firearm Registration Forms
You must be twenty-one (21) years of age or older;
Must be able to possess firearms legally ("legally possess a firearm" is described as no felons, domestic violence perpetrators, illegal aliens, adjudicated mental incompetents, drug abusers, etc.);
You may not have any outstanding arrest warrants;
May not have been convicted of DWI during the last five (5) years;
May not have been convicted of a misdemeanor crime involving any violence during the past three (3) year period;
Must have no criminal cases pending that, upon conviction, would prohibit the issuance of the permit;
May not have been admitted to a mental health facility voluntarily or involuntarily in the past five (5) year period;
Must complete the application process and have paid the required fees;
One must obtain Firearm Training (Usually a course designed specifically for CCW Permits);
You must qualify with the weapon(s) you are adding to the permit;
Prepare documentation and payment;
Go to your local CCW office and begin the final step of submission of your application. You will be fingerprinted and photographed; and
A background check will be conducted to legally process your permit. Once approved, your CCW Permit will be mailed to you by U.S. mail.