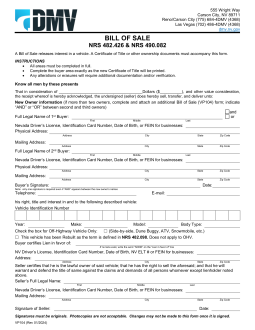 The Nevada Bill of Sale Forms are considered legal documents in the state of Nevada. These documents will provide information with regard to the sellers, buyers, and the vehicles, vessels, firearms or any other items being sold and purchased. As well, the documents will not only provide proof of legal sale and purchase but also change of ownership. Some documents will require notarization.
Types
---
General Bill of Sale – This document will provide proof of sale of personal items between two private parties.
---
Gun Bill of Sale – Would be used to show that a legal sale of a firearm has been transacted and will provide all necessary information for identifying the firearm.
---
Vehicle Bill of Sale – Will be used to prove the legal sale and purchase of a motor vehicle in the state of Nevada. Will also provide information about the vehicle and prove change of ownership.
---
Vessel Bill of Sale – Required in order to process the transfer with the State and prove ownership.
---
Nevada Vessel Registration Forms
You are required to provide a bill of sale to prove ownership of the vessel/boat
A receipt proving you've paid sales tax (if this is a sale between private parties, no sales tax is necessary)
An Original Manufacturer's Statement of Origin (MSO) – (If you have no Hull ID or MSO, you must have your boat/vessel inspected at your local NDOW location – The Carson City location will not inspect – all of the other locations will.
If your boat/vessel was purchased in another state, you will need a copy of the previous state's vessel registration
Photo ID
Be prepared to pay all application and registration fees at the time of registration
Nevada Gun Registration Forms
You must be 21 years of age or older
Must be able to legally possess firearms
You may not have any outstanding arrest warrants
May not have been convicted of DWI during the last 5 years
May not have been convicted of a misdemeanor crime involving any violence during the past 3 year period
Must have no criminal cases pending that upon conviction would prohibit the issuance of the permit
May not have been admitted to a mental health facility voluntarily or involuntarily in the past 5 year period
Must complete the application process and have paid the required fees
(legally possess a firearm is described as no felons, domestic violence perpetrators, illegal aliens, adjudicated mental incompetents, drug abusers, etc.)
One must obtain Firearm Training (Usually a course designed specifically for CCW Permits)
You must qualify with the weapon(s) you are adding to the permit
Prepare documentation and payment
Go to your local CCW office and begin the final step of submission of your application. You will be fingerprinted and photographed
A background check will be conducted in order to legally process your permit. Once approved your CCW Permit will be mailed to you by U.S. mail
Nevada Vehicle Registration Forms
You will require a completed Application for Vehicle Registration (Form VP-222)
The title that has been signed over to you
A bill of sale
A Nevada Emission Vehicle Inspection Report (if required)
Proof of Auto Insurance
A copy of an auto lease agreement if you're leasing the vehicle
Nevada state photo ID/Driver's License
Manufacturer's Certificate of Origin (MSO) (if purchased from a NV dealer or from an out of state dealer)
Purchase order (if purchased from a dealership)