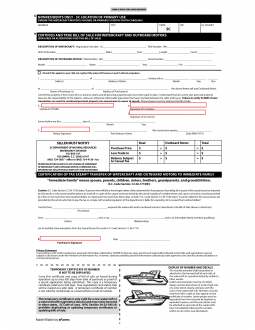 4.8 Stars | 60 Ratings
1,037 Downloads
Updated September 18, 2023
A South Carolina boat bill of sale is a legal document that records the transfer of ownership of a vessel. It is part of the state registration process and is required to obtain the decals needed to operate boat in the state. The bill of sale will contain information about the buyer and the seller, a description of the boat, and the terms of the transaction. The bill of sale may be required for registration or other state applications.
Signing Requirements – Both the buyer and the seller should sign the bill of sale, and the document should be notarized.
Registering a Boat
All motorboats and sailboats must be registered with the state's Department of Natural Resources (DNR) in order to operate in South Carolina waters. If buying a boat from a dealership, the dealer may file registration paperwork on the buyer's behalf. For sales between private parties, the buyer will need to initiate the registration process. A buyer has sixty (60) days during which the decals of the previous registrant may be used before obtaining new registration, but should begin the registration process within thirty (30) days to avoid late fees. Boat registrations previously endured for three years, but all boats purchased after Jan. 1, 2020 last one year. Registration may be renewed online, unless the buyer is not current on taxes owed on the vessel, in which case it must be done at a DNR regional office.
Where to Register
Initial registration must be done at a local Department of Natural Resources (DNR) location.
Required Documents
If the boat was previously titled, the original title signed over to the buyer, or if the boat is purchased new from a dealer, the manufacturer's statement of origin
If the boat was previously titled in another state, a pencil tracing or photograph of the boat's hull identification number and the motor's serial number
Driver's license or state ID
Proof of payment of all registration fees
For boats with existing South Carolina title, proof of payment of all taxes in the form of a property tax receipt from the buyer's county of residence

Boats purchased that were previously titled in another state, or purchased new from a South Carolina dealer, will be assessed taxes after the registration process is completed