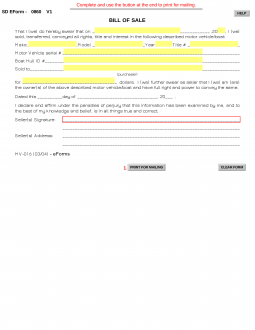 4.5 Stars | 14 Ratings
470 Downloads
Updated September 14, 2023
A South Dakota motor vehicle or boat bill of sale is a document that proves the sale and purchase of a vehicle or vessel has occurred in the State of South Dakota. This document provides information about the buyer, seller, and vehicle or vessel that is necessary for registration with the state.
Signing Requirements – The seller (only) is required to sign the document.
Registering a Vehicle
A vehicle owner must register their new vehicle within 45 days of the purchase date.[1] Registration must be renewed annually, and a vehicle's registration renewal month is determined by the first letter of the owner's last name. Owners can renew their registrations online at the South Dakota Department of Revenue vehicle registration and plates portal, in person at their local county treasurer's office, by postal mail through their county, or through a DMV Now License Renewal Kiosk.
Where to Register
Vehicle registration is available online at the vehicle registration and plates portal.
Required Documents
Registering a Boat
A boat must be registered with the state of South Dakota within 60 days of a change of ownership.[1] Boat registrations last for one calendar year.[3] Registration renewal is available in person at a local county treasurer's office.
Where to Register
Boat owners can apply for registration at the county treasurer's office local to their residence (not where the boat is kept).
Required Documents
Certificate of Title; and
Sources