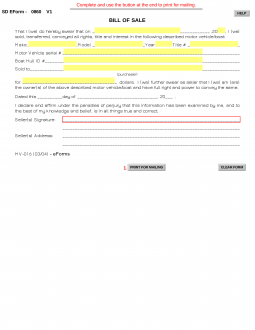 The South Dakota Vehicle or Boat Bill of Sale MV-016 is a document that proves the sale and purchase of a vehicle or vessel in the state of South Dakota. This document will provide needed information for the purpose proving that a sale and purchase was transacted legally. This form does not require notarization.
Motor Vehicles Only – The Odometer Disclosure Statement is required and must be attached to the bill of sale when the new owner applies for registration and title.
Register a Vessel/Vehicle in South Dakota
Whether one would purchase a vehicle from a private seller or a dealership, the buyer must register the vehicle within 30 days of purchase. Often, if you purchase a vehicle from a dealer, they will gladly submit all of your titling and registration information for you, however, you must be aware of what documents you need to have with you when you go to purchase your vehicle.
Where to Register – When you've gathered your proper documentation, find a County Treasurer's Office near you and appear in person to acquire titling and registration services
Needed to Register – Gather the following information prior to appearing at the County Treasurer's Office:
A bill of sale and the title of the vehicle signed over to you
If the vehicle has been purchased new you will need either:
A Manufacturer's Statement of Origin (MSO) or
A Manufacturer's Certificate of Origin (MCO)
An Odometer Reading statement
Proof of auto insurance
Driver's license or State ID
How to Write
Step 1 – Date the document in mm/dd/yyyy format
Step 2 – Vehicle and Vessel Information – You may select the area you must complete or if you are purchasing both, complete both areas:
Vehicle Information –
Make
Model
Year
Title Number
Motor Vehicle serial number
Vessel/Boat Information – 
Step 3 – Buyer and Pricing Information  –
Name of buyer
Enter the Price of the vehicle or vessel
Enter the date in dd/mm/yyyy format
Step 4 – Seller's Signature –
Seller(s) Signature(s)
Seller(s) Address