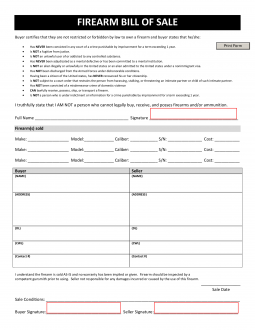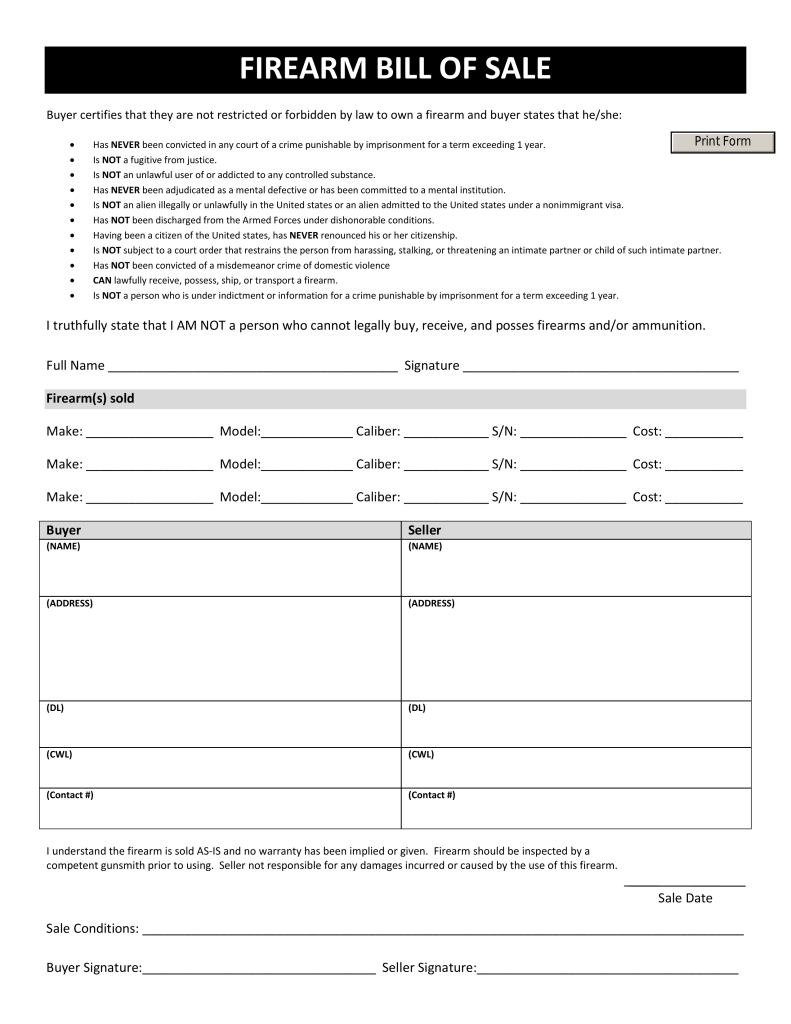 The Texas Firearm Bill of Sale is a form that is produced specifically for the state of Texas to prove the legal sale and purchase of a firearm. All aspects of the form should be carefully considered and properly documented. This form does not require notarization unless otherwise agreed between the parties or required by the state.
Register a Firearm in Texas
Firearm laws in the state of Texas. There hardly any requirements at all to be a firearm owner in the state. The state of Texas does not:
 Require any background check prior to the transfer of any firearm between unlicensed parties
Require any firearms dealer to acquire a state license
Limit the number of firearms that may be purchased at one time by anyone
Regulate what would otherwise be considered unsafe handguns ie: junk guns and/or Saturday night specials
Take any action to significantly regulate firearm ammunition
Allow any local governments or government agencies to regulate firearms nor will the state give any local law enforcement discretion to deny handgun permits
OR
Regulate the transfer or possession of any assault weapons whether they are 50 caliber rifles, or any other large capacity ammunition magazines
Where to Register – The state of Texas does not require any of the state's gun owners to register a firearm anywhere in Texas, acquire a license, or to even report lost or stolen firearms – No registration is required.
Needed to Register – No documentation is needed to register a firearm inasmuch as no registration is required in the State of Texas -Although for the average gun owner, there is plenty of freedom of ownership, the state does take very seriously the task of keeping firearms out of the hands of those who should never be in possession and could be dangerous to themselves or others.
How to Write
Step 1 – Buyer Certification re: Restriction of Possession – The buyer must read each statement at the beginning of the document carefully to be certain that they are legally allowed to purchase and possess a firearm.
Once the buyer has determined he/she is allowed to purchase and possess a firearm they must proceed by printing their full name
Provide buyer's signature
Step 2 – Firearms to be Sold – The seller must carefully enter all of the information regarding the firearms to be sold:
Make
Model
Caliber
Serial Number S/N
Cost
Step 3 – Seller and Buyer Information – Seller and buyer must enter their respective information into the document as follows:
The Buyer –
Name
Physical Address
Driver's License
Concealed Weapon License (if any)
Contact Telephone Number
The Seller –
Name
Physical Address
Driver's License
Concealed Weapon License (if any)
Contact Telephone Number
Step 4 – Signatures – The buyer must review the AS-IS statement and:
Enter the date of the sale mm/dd/yyyy
Enter the conditions of the sale ie: as-is, with warranty etc
Enter the buyer's signature
Enter the seller's signature
Make copies of the document providing the original to the buyer