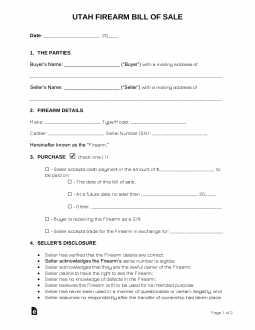 The Utah Firearm Bill of Sale is a document that is provided to show legal proof of sale and purchase of a firearm in the state of Utah. This document will show information regarding the change of ownership, identifiable information about the firearm being sold as well as information pertaining to the seller and buyer. This form requires notarization.
Register a Firearm in Utah
The state of Utah supports their citizen's rights to bear arms. The statues are simple under Utah gun laws, making it easy for those who have a right to possess a firearm to do so. Utah gun laws do not require the acquisition of a permit to purchase firearms. Authorized gun dealers, however, are required to conduct an instant background check and this must be approved by the Public Safety Bureau of Criminal Identification (BCI). A fee of $7.50 is imposed upon the buyer for the cost of a background check.
Where to Register – Since there is no registration of firearms or permits to purchase a firearm in Utah, there is no registration facility.
Needed to Register – Since there is no registration for firearms in Utah, no documentation is required.
How to Write
Step 1 – Seller and Buyer Information –Each party must enter the following:
The Seller –
Name
Driver's License Number
Physical Address
City
State
AND
The Buyer –
Name
Driver's License Number
Physical Address
City
State
Step 2 – Firearm Details – Seller must enter all information regarding the firearm:
Make
Type/Model
Caliber
Serial Number
Step 3 – Trade/Purchase Price – Select any boxes that apply and provide additional information:
Check the first box if the seller will only be willing to accept monetary payment – Enter the worded dollar amount
Enter the dollar amount in numbers
Specify the date that the parties have agreed payment will be made. (mm/dd/yyyy format)
Enter the date in which the document will be known (mm/dd/yyyy format)
If the parties have agreed that payment may be made at a later date, enter the date (mm/dd/yyyy format)
Other – If some other arrangements have been decided upon, describe the agreement
Select this box if this will firearm will be provided as a gift
The last box will only address an even trade agreement. Provide the conditions of the agreed trade
Step 4 – Buyer's Disclosure – The buyer must carefully review all statements. If in agreement, enter the buyer's signature
Step 5 – Seller's Disclosure – The Seller must read all of the statements. If the seller is in agreement, enter seller's signature
Step 6 – Signatures – All parties must provide the following:
Date the signatures in dd/mm/yyyy format at the top of this section
The Seller –
Signature
Printed Name
AND
The Buyer –
Signature
Printed Name
AND
Witness 1 – 
Signature
Printed Name
Witness 2 –
Signature
Printed Name
Step 7 –  Notarization –When the notary has witnessed all of the parties signatures, then they will complete the remainder of the document and affix the state seal
Make copies of the completed document for record keeping
Provide the original copy to the buyer