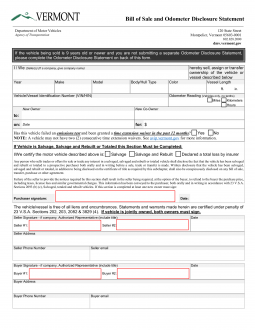 4.3 Stars | 12 Ratings
322 Downloads
Updated May 31, 2023
A Vermont vehicle bill of sale form, known as Form VT-005, is a document that records the sale of a motor vehicle in the State of Vermont. It is both a tool for record-keeping and a means to prove the legitimacy of the sale to other parties, including the state. This document will provide information about the seller and the buyer, a description of the vehicle sold, and facts about the circumstances of the transaction.
Signing Requirements – Both the buyer and the seller must sign the document.
Odometer Disclosure Statement
– Disclosing the mileage of the vehicle being sold is required by state and federal law. Vermont, rather than have a separate form or space to list the mileage on a title document, combines the Odometer Disclosure Statement with the official Bill of Sale form. The buyer should ask whether the reading on the odometer is accurate; if it is not, the vehicle cannot pass an inspection.
Registering a Vehicle
Any vehicle purchased by a Vermont resident intended to be driven on Vermont roads must be registered with the state Department of Motor Vehicles. Unlike some states, Vermont does not specify how long a buyer has to register after purchasing the vehicle, but buyers should strive to do so as soon as possible. Those who register must get the vehicle inspected within 15 days. If the transaction took place at a dealership, the dealer will submit your titling and registration information on the buyer's behalf. But if the buyer and seller were private individuals, it is the buyer's responsibility to register the car. Registration may be secured in either one- or two-year terms. Renewal may be handled online.
Where to Register
Initial registration must be done either by mail or in person at one of the Vermont DMV locations near the buyer.
Required Documents
If the vehicle being exchanged is used, a title that has been signed over to the buyer
If the vehicle is new, a Manufacturer's Certificate of Origin (MCO)
If the vehicle is coming from another state, a copy of the title
For used cars, a verification of the Vehicle Identification Number (VIN)
Proof of auto insurance meeting the state's minimum requirements

$25,000 for a single injury or death in an accident
$50,000 for cost of a total accident
$10,000 for property damage in an accident

Driver's license/State Identification
If applying by mail, a vehicle price estimate by J.D. Power
If the vehicle is being financed, a Motor Vehicle Power of Attorney
Payment of the necessary fees per this fee schedule