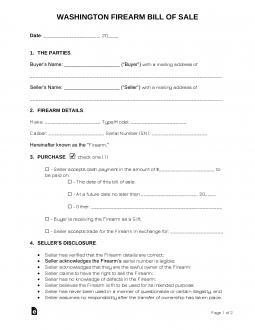 The Washington Firearm Bill of Sale is a legal document that provides proof that a legal sale and purchase of a firearm has been successfully and legally transacted. The form will provide valuable information pertaining to the change of ownership of the firearm, the specific identifying factors regarding the firearm as well, information regarding the seller and the buyer. This form must be notarized.
Register a Firearm in Washington
In the state of Washington, there are no outstanding restrictions pertaining to firearms. No firearm license is necessary to purchase or to possess a firearm. There is, however, a specific application process required for the purchase of any handgun. This same procedure is not required to purchase rifles or shotguns.
Where to Register – Although there is no formal registration required by Washington firearm laws. This holds technically true for persons and/or firearms. This being stated, police records are kept for the purchase of all firearms. Therefore one may deduce that this acts as a form of registration. Regardless, no registration is mandated by law. Authorities may only retain data from a minimal standpoint.
Needed to Register – There is no registration required per si, in the state of Washington. With regard to handguns, there is an application that must be completed, a background check will be necessary and a 5 day waiting period. The application will require that you provide the following information:
Your full legal name
Physical address
Your driver's license number
Race
Gender
AND
The application also requires that you provide the following information pertaining to the handgun:
The model
Type
Caliber
Manufacturer's number
A statement from the buyer that the individual is eligible to be in a possession of a pistol will be required as part of the application process
How to Write
Step 1 – Seller and Buyer Information – Seller and buyer must provide :
The Seller –
Name
Driver's License Number
Physical Address
City
State
AND
The Buyer –
Name
Driver's License Number
Physical Address
City
State
Step 2 – Firearm Details –Seller must provide firearm information:
Make
Type/Model
Caliber
Serial Number
Step 3 – Trade/Purchase Price – Check all that apply adding requested information if needed:
Check the first box if this will be a monetary payment only– Enter the worded dollar amount
Enter the dollar amount in numbers
Specify the date as to when the parties have agreed that payment will be made. (mm/dd/yyyy format)
Provide a preferred date in which the document will be known (mm/dd/yyyy format)
If payment will be made at a later date, enter the date (mm/dd/yyyy format)
Other – If some other negotiations have been agreed upon by the parties then briefly describe the terms of the agreement
Check the box if the item(s) are being given as a gift to the recipient
The last box will provide explanation of an even trade agreement between the parties
Step 4 – Buyer's Disclosure – The buyer must carefully review all statements in this section. If in agreement the buyer should continue by providing their signature
Step 5 – Seller's Disclosure – The Seller must read all of the statements in this section. If in agreement the buyer should continue by providing their signature on the line provided on the form
Step 6 – Signatures – All signatories must provide the following:
Date the signatures in dd/mm/yyyy format at the top of this section
The Seller –
Signature
Printed Name
AND
The Buyer –
Signature
Printed Name
AND
Witness 1 – 
Signature
Printed Name
Witness 2 –
Signature
Printed Name
Step 7 –  Notarization –When the notary has witnessed all signatures, then they will complete the remainder of the form and affix the state seal
Make copies for record keeping
Give the original copy to the buyer