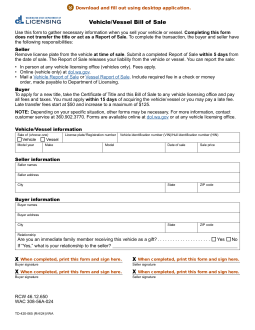 4.7 Stars | 161 Ratings
3,454 Downloads
Updated September 14, 2023
A Washington vehicle/boat bill of sale is a document that records the legal transfer of ownership of a motor vehicle or boat in the State of Washington. The bill of sale will identify the buyer and the seller, describe the boat or vehicle changing hands, and name the terms of the transaction. This document is needed to register and may be useful for tax purposes.
Signing requirements – Both the buyer and the seller must sign.
Odometer Disclosure Statement – Due to the odometer disclosure being printed on tamperproof paper there are 3 options to get a copy:
Pick one up at any Vehicle Licensing Office.
Send a request with your name and mailing address to CustomerCare@dol.wa.gov (mailed within 2 business days).
Call (360) 902-3770 (mailed within 2 business days).
Registering a Vehicle
Any vehicle driven by a Washington resident must be registered with the state Department of Licensing (DOL) to drive on Washington roads. This includes buyers of new or used vehicles, as well as those relocating to the state. Vehicle buyers have must formally transfer ownership with the state within fifteen (15) days of purchase. (If the vehicle is bought from a dealership, the dealer will generally handle this task.) Registration must be renewed each year, and may renewals may be completed online.
Where to Register a Vehicle
Vehicle registration may be completed at a local DOL office.
Required Documents for vehicles
Registering a Boat
As with vehicles, boats must be registered to operate in Washington waters. The exceptions are for boats not powered by a motor or a sail, boats of less than sixteen (16) feet in length possessing a motor of fewer than 10 horsepower, and those of non-residents visiting the states for a period under sixty (60) days. Boating regulations are promulgated by the Recreation and Conservation Office, but, as with vehicles, registration is handled by the Department of Licensing (DOL), and buyers must register a boat within fifteen (15) days of purchase.
Where to Register a Boat
Boats may be registered by mail or in person at any state vehicle licensing office.
Required Documents for Boats
A completed Vessel Title Application
If the boat was previously registered in another state, the out-of-state registration
If the boat was previously titled in another state, the out-of-state title (Note: In Washington, the title usually must be signed over in the presence of a state licensing agent)
Proof of payment of sales and use taxes