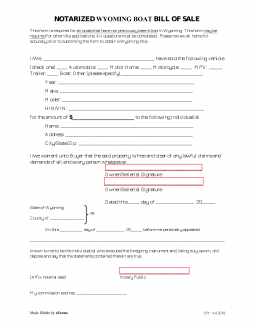 5.0 Stars | 1 Ratings
25 Downloads
Updated May 31, 2023
A Wyoming boat bill of sale is a form that documents the legal transfer of ownership of a vessel. The bill of sale will provide information about the buyer and the seller, describe the boat changing hands, and record the terms of the transfer of ownership. This document will be required for some boats during the registration process and may be needed for other applications or permits.
Signing requirements – The seller is required to have their signature notarized. Buyer does not need to sign.
Registering a Boat
All motorized vessels must be registered with the Wyoming Game and Fish Department (WGFD). A buyer should complete the titling requirement the registration process within 30 days of purchase. For purchases made at a dealership, the dealer will generally handle the registration paperwork, but for transactions between private parties, the buyer must take steps to register. Boats may be registered in either one-year or three-year periods, but all registrations expire on Dec. 31, regardless of when within the calendar year they were initiated. Once registered, registration may be renewed online, through the mail by responding to the registration-reminder postcards send by WGFD, or in person at a WGFD office.
Where to Register
Registration can be completed at an office of the Game and Fish Department.
Required Documents