Updated June 23, 2023
A research informed consent form is used for the purpose of freeing students/faculty of any liability while performing a research study with human participants. Not only does the consent form liberate the researchers of accountability, it briefs the participants of how the research will be conducted, presented and reported. The participants must be fully aware of any risks or potential discomfort that may arise during the study. It should also be made known that participation is voluntary and that the participants can withdraw from the study. A step-by-step guide to filling out a general research informed consent form can be found below.
Instructions – Use to fill in the blank template.
How to Write
Step 1 – Download in PDF, Microsoft Word (.docx), or Open Document Text (.odt).
Step 2 – The title of the research study being conducted must be included at the top of the consent form.

Step 3 – Enter the following information related to the primary researcher in the fields provided:
Name
Department
Address
City
State
Phone number
Email address

Step 4 – The purpose of the study, the procedures, the risks, and the benefits should be listed under each appropriate corresponding category with the participant's initials included at the bottom of the page.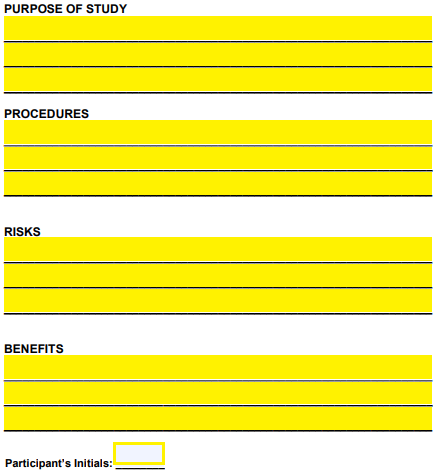 Step 5 – Any compensation that is to be provided to the participant(s) should be included under the "Compensation" section on page 2.

Step 6 – A telephone number and email address should be supplied under the "Contact Information" section in case the participant does not want to contact the primary researcher directly. The participant must initial the bottom of the second page.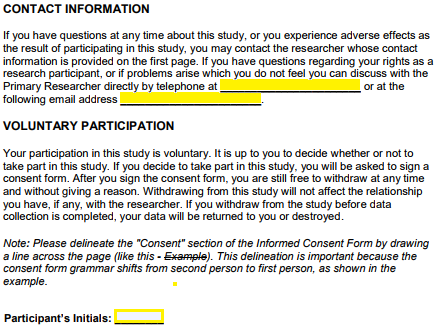 Step 7 – Signatures must be produced by the participant and the researcher, with the date on which the form was signed next to each signature.