Updated August 23, 2023
Connecticut deeds are used to convey or transfer real estate from one person or entity to another. There are different types of deeds depending on the situation. Some deeds provide a form of warranty from the grantor (seller) to the grantee (buyer) that there is no one else who can claim an interest in the property. A quit claim deed, on the other hand, provides no guarantee and the grantor is only transferring the interest that he may or may not have in the property. It is important in all cases that a purchaser understand the background information on the property and transfers and restrictions that have been made in the past so that they know what they are purchasing. A property search or title search is how a buyer can obtain this information and often a title company will provide that service to a buyer for a fee.
Laws – Title 47, Chapter 821 – Land Titles (§§ 47-1 — 47-36)
Recording – All deeds are to be recorded with the City/Town Recording Office in the jurisdiction of the property.
Signing – All deeds must be completed with a Notary Public acknowledging the signatures in addition to two (2) witnesses. The Notary Public may account as one (1) of the witnesses. (C.G.S.A. § 47-5)
Deed Types (3)
---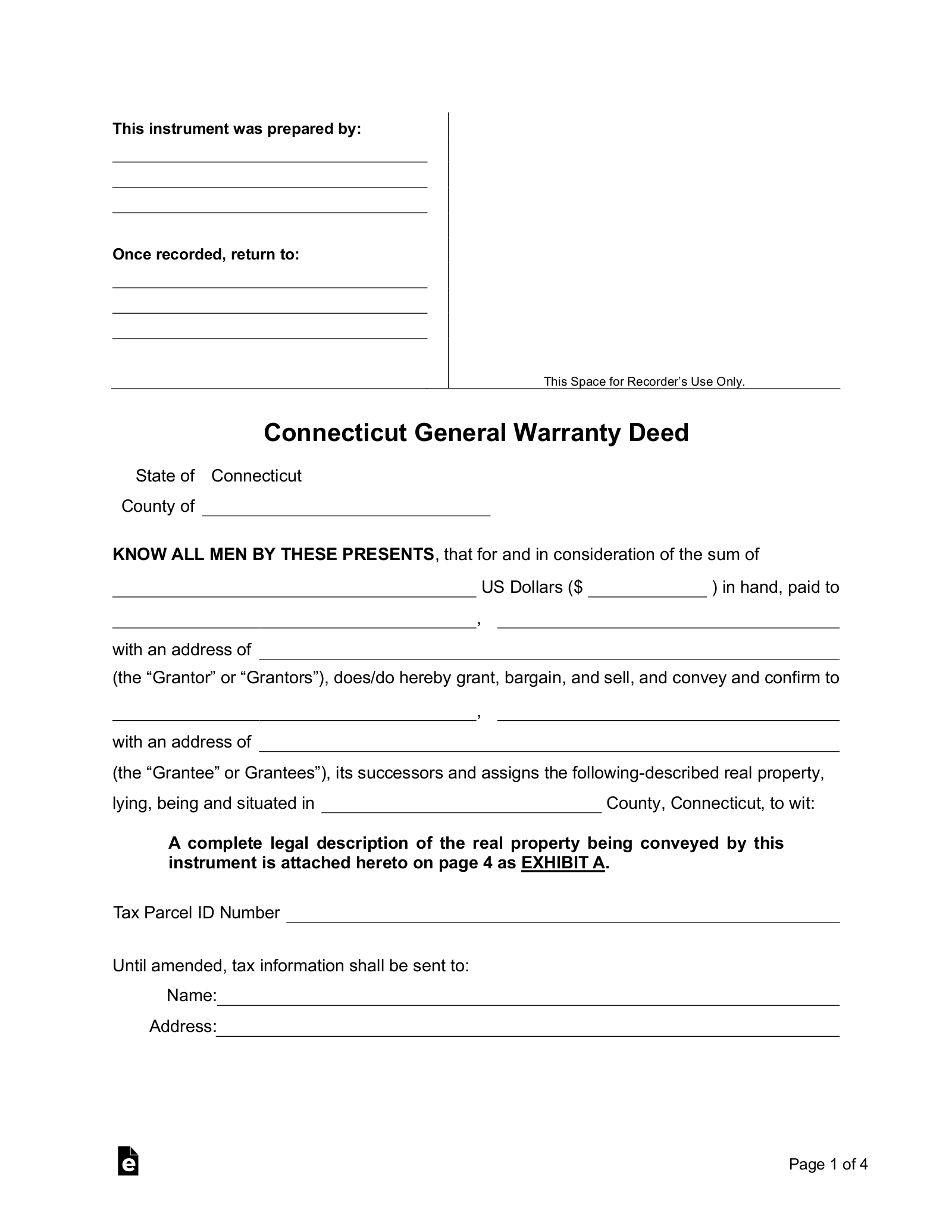 General Warranty – This deed guarantees that the seller is passing on a clear title to the property and there are no others that can claim an interest in the property.
Download: PDF, MS Word, Open Document
---
Quit Claim– This deed provides no guarantee to a clear title to the property. The seller is merely "quit claiming" any interest that they may have to the property.
Download: PDF, MS Word, Open Document
---
Special Warranty– This deed provides a limited warranty to a buyer.
Download: PDF, MS Word, Open Document
---
Connecticut Property Search (5 steps)
Whenever you desire to purchase a piece of property, whether there is a warranty or not, it is important that you have a complete title search done so that you have a good understanding as to what interest in the property you are buying. You'll want to know if there are any liens on the property, whether there are other interests held by people you are not aware of and whether there are mortgages that need to be discharged. In order to find out this information, a title search will have to be completed. In Connecticut, the land records are held by the town clerk in each town. In order to do a complete search, you may have to go directly to the town clerk's office in the town in which you are purchasing property to look at and copy the relevant records. Town clerks have also contracted with an online subscription service whereby you can look up records online:
Step 2
In order to use the service, you will have to create an account by clicking on "Create an Account" in the upper left-hand corner.
Step 5
You will then be able to choose the county in which you wish to search and begin the search. You will have to pay a subscription fee, plus a fee for any copies you make.