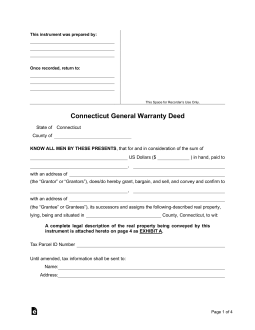 The Connecticut general warranty deed provides a way for one person to transfer his or her ownership in real estate in Connecticut to one another. This type of deed is used to transfer ownership with a guarantee by the transferor, also known as a grantor,  that he or she holds legal title to the property, that there are no other claims against the property and he or she can legally sell the property to the buyer, also known as the grantee. Despite the guarantee, part of the process in the purchase of any real estate should be to conduct a title search or land record search so that you have an understanding of the history of the land transfers so that you can ascertain whether there are any hidden issues in the title that can be addressed.
Laws – Sections 47-36c & 47-36d
Recording – All deeds must be recorded with the respective City/Town Clerk in the of the jurisdiction of the property.
Signing (Section 47-5) – All warranty deed authorized in the State of Connecticut must be done so with two (2) witnesses and a notary public.
How to Write
Step 1 – In the first blank, print the grantor's name and the town and county in which he or she lives.
Step 2 – Fill in the consideration paid for the property both with words and numbers.
Step 3 – Write in the name of the grantee and the grantee's address and then the grantee's name again.
Step 4 – Include the address of the property being transferred and attach it as Exhibit A the legal description of the property.
Step 5 – Print the name of the town in Sections 1 and 2 where the property is located.
Step 6 – In the next paragraph, fill in the grantor's name and the proper pronoun.
Step 7 – Then, fill in the name of the grantor and the correct pronouns.
Step 8 – In the last paragraph on the second page, fill in the name of the grantor and grantee as indicated.
Step 9 – Sign and date in front of two witnesses and a notary public.
Step 10 – The grantee will then take the original to be filed with the town clerk for recording.