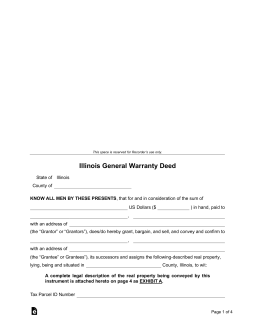 The Illinois statutory warranty deed is a deed conveying property from one person to another, or from a grantor to the grantee whereby the grantor provides a warranty or guarantee to the grantee that the property he or she is selling is free and clear of any other claims to the property and that the grantor has the legal right to sell or convey the property. Despite the guarantee, it is important that you, as the buyer, have a thorough title search completed so that you know what interest you are purchasing in the property.
Laws – 765 ILCS 5/9
Transfer Tax (Form PTAX-203) – This form may be Downloaded in Adobe PDF or Filled-in Online (Applicable Counties may also have this form filed online). It must be completed and printed along with the Warranty Deed when filing with the County Recorder's Office.
Recording (765 ILCS 5/28) – All deeds in the State of Illinois are to be filed with the County Recorder's Office (See List).
Signing (765 ILCS 5/) – A Notary Public is required to witness the signature of the Grantor(s) (the Seller).
How to Write
Step 1 – Insert the name of the grantor in the top blank along with his or her town and county.
Step 2 – Fill in the dollar amount paid for the property.
Step 3 – Write in the name of the grantee along with his or her town and county.
Step 4 – Include the legal description of the property. This is usually found in the previous deed.
Step 5 – Enter the index number and address of the property being sold.
Step 6 – Sign and date in the presence of a notary public.
Step 7 – The buyer will have to make sure the original is recorded with the county recorder right away.