Updated September 11, 2023
A Maine quitclaim deed without covenant is used to convey property to a buyer from a seller but does not provide a guarantee or warranty. This means the buyer is purchasing only whatever interest the seller may or may not have in the property being sold. These types of deeds are occasionally used between family members or from a person to his or her trust. However, it is always wise to check on the title to make sure there aren't any new interests recorded in the property.
Quitclaim Covenants
Maine statutes authorize two different types of quitclaim deeds:
The quitclaim deed without covenant is closer to what is meant by "quitclaim" in most other states: the seller is only offering the interest that they have. A quitclaim deed with covenant, by contrast, means that the seller will defend the buyer against anyone making a claim to the property through the seller.[1]
The quitclaim deed with covenants, in this sense, resembles a general warranty deed, and as a result, may be more desirable in some situations. Those creating a quitclaim deed in Maine should think carefully about what they are offering and the language of the deed. A quitclaim deed without covenant will typically just use the "release all rights in the premises being conveyed" without mention of any warranty.[2]
Covenant Version
---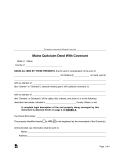 Maine Quit Claim Deed With Covenant – A quit claim deed that provides the buyer limited protection against claims to the property
Download: PDF
---
Sources