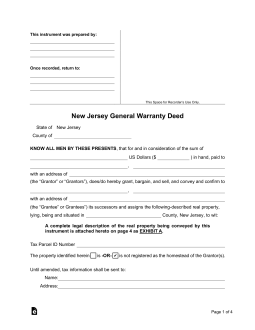 The New Jersey general warranty deed conveys property in "fee simple" which gives the new owner (or "Grantee") the cleanest type of title available protecting them from any liens or encumbrances from any previous owner. The form is to be signed upon the transaction date (known as the "closing") when the money is transferred to the Seller (or "Grantor"). After it has been signed it is to be recorded where the ownership transfer will become official and public.
Laws (Section 46:4-7) – The term "that he will warrant generally the property hereby conveyed" is required to be stated.
Recording – Must be filed with the County Clerk's Office.
Signing (Section 46:4-1) – The Seller is required to authorize this form in the presence of a Notary Public.
How to Write
Step 1 –