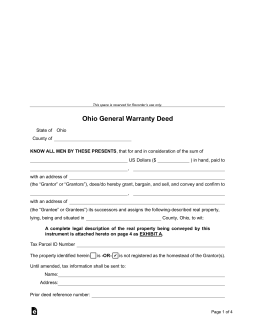 The Ohio general warranty deed is a legally binding document, when properly filled out and executed, transferring real estate interests from one person to another. A warranty deed includes a guarantee by the seller (or grantor), that he or she has full legal authority to transfer his or her interests and that there are no defects or encumbrances to the title to the property. This means that there is no one else who can claim an interest in the property other than what has been disclosed.
Laws – § 5302.05
Recording (§ 5301.25) – Must be recorded in the County where the real estate is located.
Signing (§ 5301.01) – Grantor(s) must sign in the presence of a Notary Public.
How to Write
Step 1 – Fill in the name of the grantor and the grantor's marital status.
Step 2 – Write in the name and address of the grantee (or purchaser).
Step 3 – Fill in the description of the property including county and legal description.
Step 4 – Fill in the recording information for the previous deed.
Step 5 – Write in the name of the grantor's spouse, if any.
Step 6 – The grantors should sign and date in the presence of a notary public licensed in Ohio and the grantee should immediately file the original with the county recorder's office.