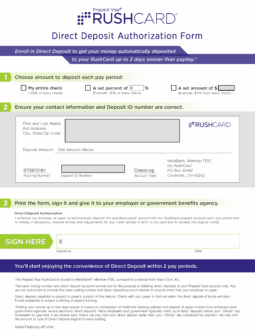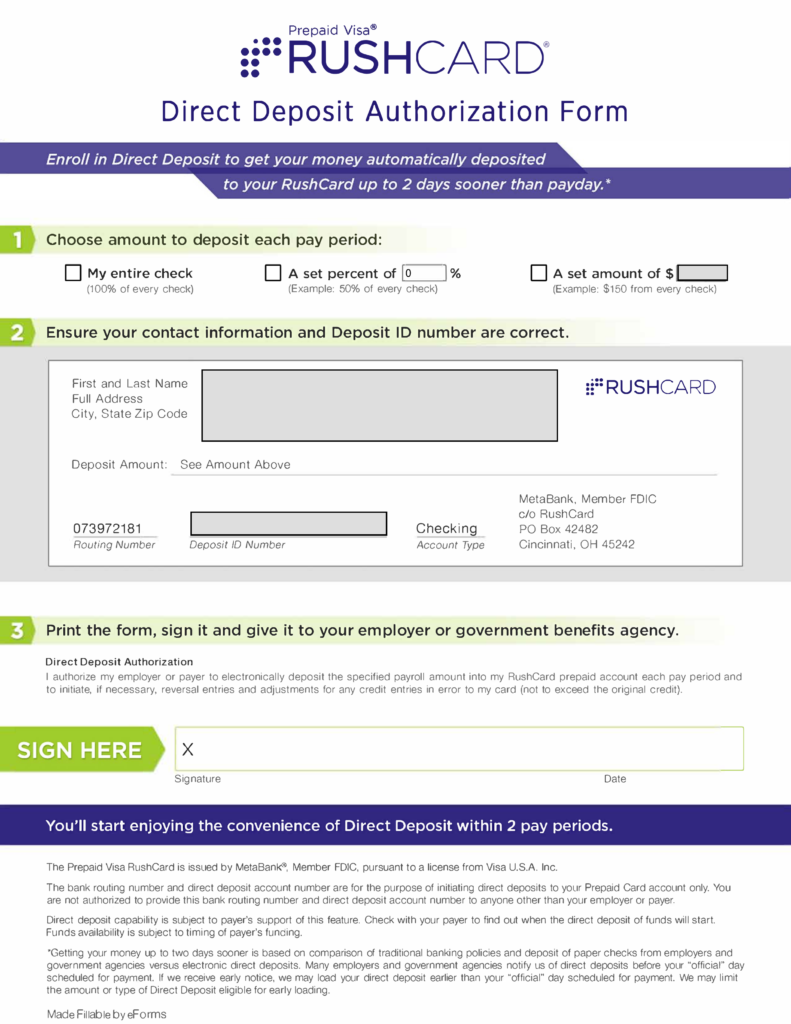 0.0 Stars | 0 Ratings
6 Downloads
Updated May 31, 2022
The RushCard direct deposit authorization form is used to share account details with an employer to receive payment via an electronic transfer. This authorizes the employer to deposit money directly to your account. The amount to be deposited and the frequency of payment will depend strictly upon the agreement the employee and employer have agreed to. Generally, it will take roughly two pay periods to start receiving your payments by having them directly deposited into your RushCard Prepaid Visa Card. If this does not happen, you should check your records and contact your employer.
Routing Number – 073972181
How to Write
Step 1 – Download the RushCard Direct Deposit Authorization Form through the PDF button on the right below the image. You may fill this out manually by printing it or onscreen with a form friendly browser or PDF editor.
Step 2 – In Item 1, define the amount of money that shall be deposited in your Account using the Direct Deposit system you are signing up for. If you would like %100 of your payment deposited, then make a mark in the first box. If you would like to have a Percentage of your payments to be deposited, then select the second check box and enter the Percentage to be deposited in the text box preceding the Percent Sign. If you would like a set amount of money to be deposited then select the third box and enter this Dollar amount in the box following the Dollar Sign.

Step 3 – Item 2 will contain an image of a check. This will act as a framework to report the information necessary to set up the Direct Deposit Account you have named in Step 2 to receive the amount of money you have defined. First in the large text box, report your Full Name (First Name and Last Name) along with your Complete Address. This should be reported exactly as it appears on your statements and checks. Then, enter your Account Number in the text box labeled "Deposit ID Number."

Step 4 – In the text box following the words "Sign Here," you must Sign your name next to the "X" then enter the Date you are signing this form above the word "Date."

Step 5 – This form must be submitted to your Employer, Government Benefits Agency, or Entity that will be using this Direct Deposit Account to regularly deposit payments to the Account(s) you have listed.
Save