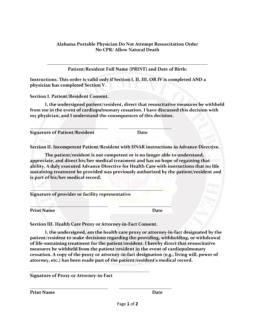 5.0 Stars | 9 Ratings
108 Downloads
Updated July 18, 2023
The Alabama do not resuscitate (DNR or DNAR) order form allows a patient to avoid treatment should their heart or brain show no electrical activity. DNRs must be requested by the individual/patient (or by a health care proxy, surrogate, or attorney if they are incompetent) and their physician. By presenting this form to a hospital, the medical staff is required by law to avoid cardiopulmonary resuscitation (CPR) or automated external defibrillators (AED) in an attempt to save the patient's life.
Laws – § 420-5-19-.02
Required to Sign – Patient and physician.
How to Write
Step 1 – Download in PDF.
Step 2 – On the first fillable field, enter the patient's name and date of birth.
Step 3 – Under 'Section I', the patient/resident must inscribe their signature and include the current date.
Step 4 – 'Section II' is to be completed if the patient/resident is incompetent or unable to make serious decisions and an Advance Directive for Health Care was authorized by the patient prior to their incompetent state. The provider or facility representative must include their signature, printed name and the date on the appropriate lines.
Step 5 – Under 'Section III', the patient's health care proxy or attorney-in-fact must inscribe their signature, print their name and enter the date. This section only applies to situations where the patient has authorized a proxy or attorney to make decisions for them regarding life-sustaining treatment.
Step 6 – If no proxy or attorney has been selected by the patient, and they have not previously stated that a surrogate shouldn't be appointed, a surrogate will be assigned to the patient with the authorization to withhold resuscitation. In cases where a surrogate has been appointed, they must consult with a physician to gain an informed opinion. The surrogate must sign, print their name and include the date under 'Section IV'.
Step 7 – Lastly, the patient's physician must sign at the bottom of page two of the form, and include their printed name and the date.