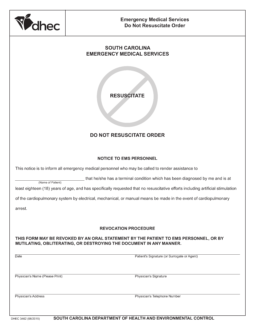 3.8 Stars | 8 Ratings
124 Downloads
Updated August 04, 2023
The South Carolina do not resuscitate (DNR) order form is a notice informing emergency medical service providers that no resuscitative measures shall be administered to a patient in the event they experience cardiopulmonary arrest. A DNR order may be requested by the patient or from a representative authorized to make medical decisions on their behalf (i.e., surrogate or agent). Furthermore, the order may only be executed if a physician has determined that the patient suffers from a terminal condition.
As part of broad advance care planning initiatives, South Carolina also created the Physician Orders for Scope of Treatment (POST) program. POST enables patients to outline medical orders by which practitioners must abide when considering end-of-life treatment.
Laws – § 44-78-10 – § 44-78-65
Required to Sign – Physician, and patient (or surrogate/agent).
How to Write
Step 1 – Download the South Carolina DNR form in PDF.
Step 2 – Enter the patient's name in the first available space.
Step 3 – Enter the following information in the spaces below the "REVOCATION PROCEDURE" heading:
Date of execution
Physician's name
Physician's address
Signature of patient/surrogate/agent
Physician's signature
Physician's telephone number