Updated May 31, 2022
The real estate consultant agreement is a service contract between an independent contractor and a client who is seeking professional advice regarding the purchase, sale, or development of a property. The document must be filled out to reflect the details of the agreement, including compensation, the contract's term, and the services for which the consultant is being hired. The real estate consultant's most common role is to assist clients who wish to invest in real estate. Using their professional knowledge regarding the local real estate market, the consultant can assist the client in reaching their investment goals. The contract becomes effective once both individuals have signed it. Unless otherwise stated in the form, either party can terminate the contract by issuing a written termination notice.
Listing Agreement – Traditional contract between a licensed real estate broker and a client seeking to buy or sell real estate. The broker is paid a commission (%) based on the sales price of the property sold.
What is a Real Estate Consultant?
A real estate consultant is an individual who advises their clients on real estate investment strategies, construction project planning, and current market trends. Unlike a real estate agent, a consultant is not paid a commission and, therefore, is better able to provide unbiased advice to their clients. For instance, a consultant can give their client a clear estimate of a property's actual market value without having any motive to exaggerate or understate. Ultimately, the role of the consultant is to assist the client in achieving their goals regarding real estate, which could involve the purchase, sale, and development of a property.
Does a Real Estate Consultant Need to be Licensed?
No. A real estate consultant is not technically required to operate as a real estate consultant, although, most consultants have completed state-mandated training and obtained a real estate agent or broker's license. A real estate agent is required to have a license in order to legally represent their clients in the purchase and sale of a property. Because a consultant is acting as an advisor and not a representative to the client, no license is required. Every state's licensing procedure is different, however, all of them have certain pre-licensing requirements, which include training and examination with a state-approved real estate program. Some states may also have post-licensing and continuing education requirements in order for a license to be held in good standing. Once an agent has acquired their license, they must find a broker to associate themselves with before they can begin representing clients.
How Much Does a Real Estate Consultant Make?
Real estate consultants usually work for a flat hourly rate or an agreed sum for advising on a single transaction. The more experienced and successful the consultant is, the higher the rate that they can expect their clients to pay. The amount that clients will be charged can also fluctuate greatly based on the nature of their requested service. For instance, if the consultation is for a large development project or if the client needs special insider information, the consultant may charge more for their time and expertise. A consultant is often an agent or broker who is supplementing their income from commissions with consulting work and, therefore, will set their hourly fee relative to the level of income that they are accustomed to. However, anyone with experience in real estate investment and development can professionally advise clients as an independent contractor.
Sample 1
Uses: For marketing, contract review, and partnership options.
Download: Adobe PDF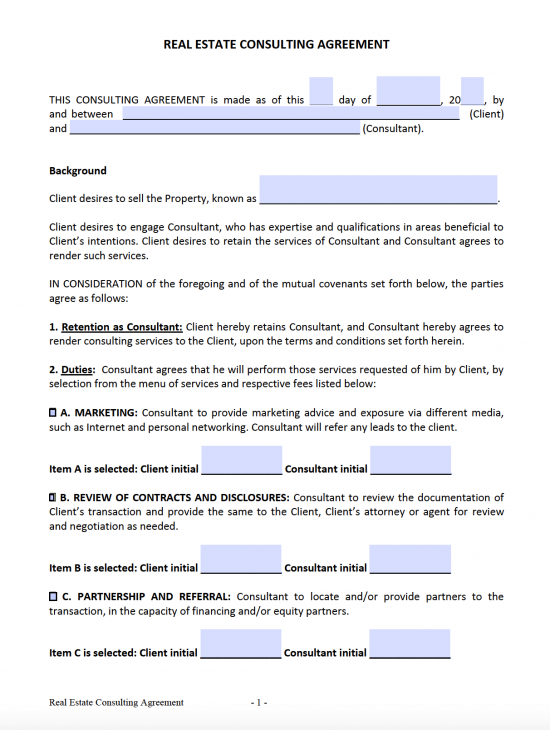 Sample 2
Uses: For the payment of leads and general marketing of a property.
Download: Adobe PDF