Updated May 29, 2023
An independent contractor agreement is a legal document between a contractor that performs a service for a client in exchange for payment. Also known as a "1099 agreement" due to the contractor not being an employee of the client. A contractor is commonly hired on a short-term or intermittent basis, unlike an employee.
Basic Versions (2)
---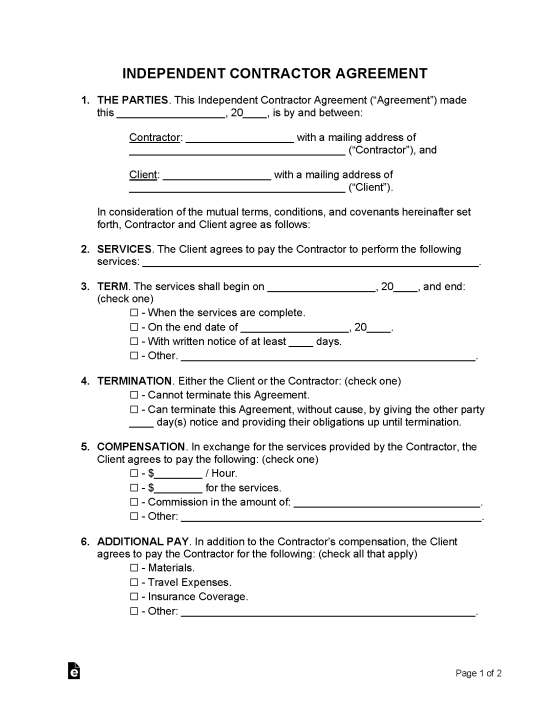 Simple Version
Download: Adobe PDF, MS Word (.docx), OpenDocument
---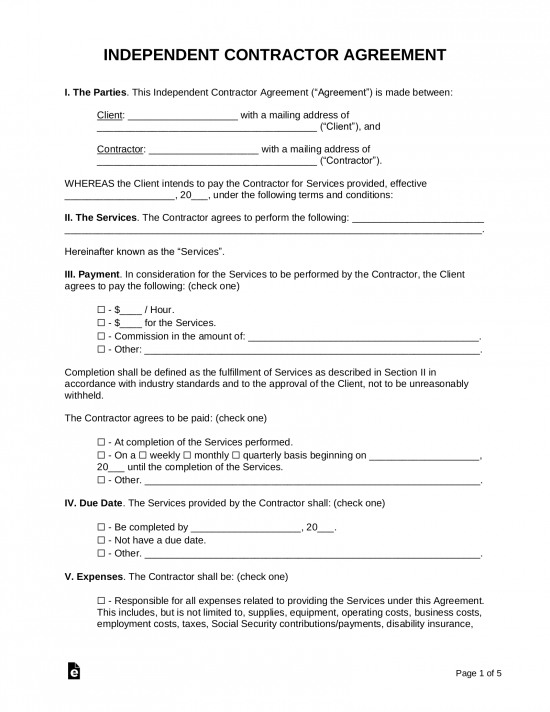 Comprehensive Version
Download: Adobe PDF, MS Word (.docx), OpenDocument
---
By State
By Profession (34)
By Type (10)
What is an Independent Contractor?
An independent contractor is classified by the IRS, under 26 CFR 31.3121(d)-1, as someone who conducts the following activities:
Able to control how their services are completed;
Able to work their own schedule and hours;
May control their work attire;
Salespersons paid solely on commission (except insurance salespersons);
Uses their own tools and equipment when performing services; and
Part-time corporate officers.
Ultimately, an independent contractor is an individual who has their own boss and sets their own rules to justify how they work and their output. Generally speaking, if an individual is paid on a per-project or task manner, they will most likely be considered an independent contractor. If the individual is paid a salary, must adhere to a specific schedule, and is dictated what to do in every facet of their workday, they will most likely be considered an employee.
Independent Contractors: By Right (IRS)
Specifically, the following professions are independent contractors by right under IRS Rules:
Physicians
Lawyers
Dentists
Veterinarians
Construction contractors
Public stenographers
Auctioneers
How to File Taxes
Independent contractors must use IRS Form 1099 – MISC and file at the end of the year to file their taxes with the Internal Revenue Service (IRS).
How to Hire an Independent Contractor
Once an individual or company has decided that services are needed, they will need to determine which independent contractor works best for them. Once a contractor is found, it is time to write an agreement.
Step 1 – Independent Contractor Completes IRS Form W-9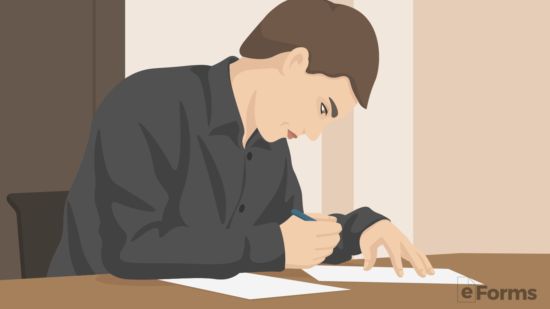 IRS Form W-9 should be given to the independent contractor and completed before signing any agreement. This will identify themselves and require them to give their Employer Identification Number (EIN) or Social Security Number (SSN) before performing any work.
This form is required to be stored by the client for a period of four years although is not required to be filed with the IRS.
Step 2 – Verify the Contractor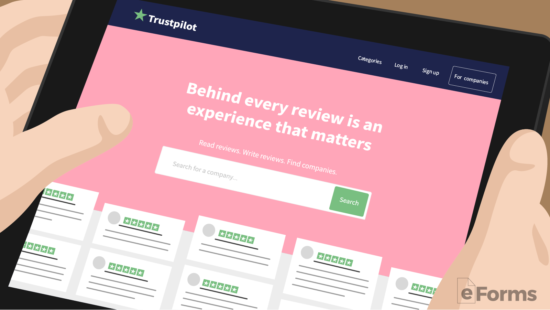 Before hiring the services of a third party, it's best to verify the credentials of the individual or business by looking up all reviews, and past work, along with conducting necessary background checks.
For entities, it's a bit harder to perform a background check. The best way is to simply conduct a search on Google and try to view any negative results. To ensure the entity is valid to do business in the state where the services are being performed a check on the Secretary of State (search by state).
Websites like Yelp, RipOffReport, Facebook, BBB.org, and TrustPilot are great resources for viewing customer testimonials.
It's best to conduct a criminal background check and check with past references to verify the character of the person. For past employment, use LinkedIn as a means of viewing past employers. If agreed by the contractor, the past employers should be contacted in an effort to get to know their integrity and work ethic.
Step 3 – Negotiate with the Contractor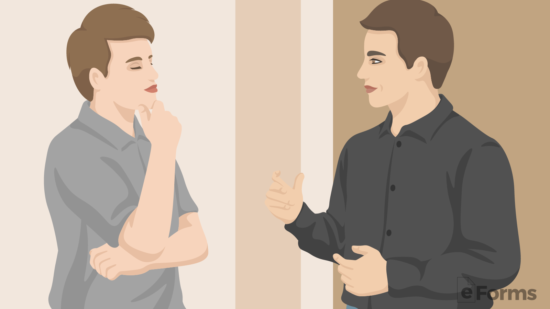 Once the contractor has been vetted and qualified, it's not time to discuss the terms of service. This should include:
Payment
Term
Scope of Work
Responsibilities
Confidentiality
Non-Compete
Liability
Insurance
After a verbal agreement has been reached, the parties can decide to authorize a work order or move straight to a binding written independent contractor agreement.
Step 4 – Completing the Form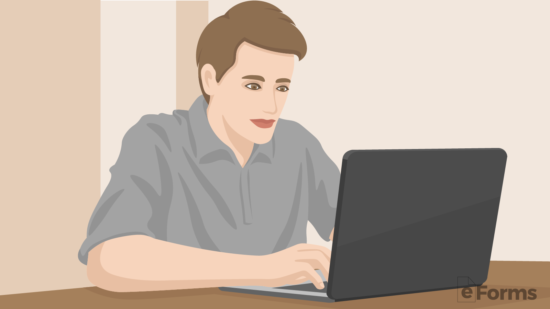 Download: Adobe PDF, Microsoft Word (.docx), or Open Document Text (.odt)
Use the template and write yourself or seek legal counsel. After the parties have filled in the document and completed it is now ready to be signed.
Step 5 – Signing the Agreement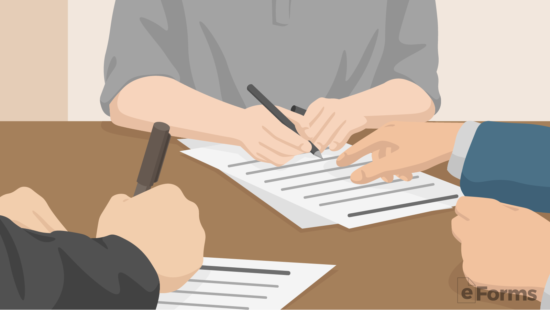 The agreement should be signed by all the parties in the presence of a witness or notary public (or both). In addition, the form should be initialized on the bottom of every page to mark that each item of the contract has been agreed upon by all of the parties.
At this time, the contract is finalized and legally binding to both parties.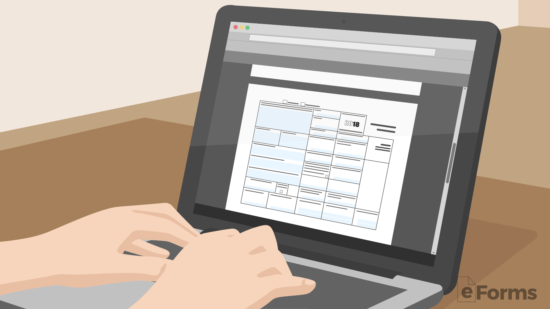 If payment to the independent contractor is more than $600 over the course of a calendar year, the client will be required to file IRS Form 1099 with the Internal Revenue Service (IRS) when they pay their taxes on April 15.
Sample
Download: Adobe PDF, MS Word, OpenDocument
For the comprehensive document, please download the free form or hit "create document."