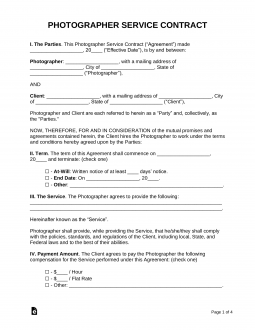 A photography contract is a written agreement that describes the services to be performed by a photographer hired by an individual or business. The cost of hiring a photographer varies greatly depending on where they are based, how much experience they have, and the type of job they are asked to do. Having a photography contract in place allows both parties to negotiate the terms of the arrangement, including the type of services, the length of the agreement, and the amount of compensation. The written contract provides more security for the photographer and hiring party as opposed to a verbal contract. Both parties are bound to the agreement until the job is done or the contract is terminated for other reasons.
Table of Contents
What Does a Photographer Do?
A photographer's duties while photographing include composing shots, understanding framing, light, and color, and giving direction to subjects. A photographer's job doesn't stop there. They have to understand how to use digital editing tools and programs as well as have an understanding of printing equipment. Some photographers will have to understand a bit about the business side of things as well – meeting with clients, hiring help, keeping records and lists of expenses, and general business management.
Event Types
Baby Shower
Commercial
Event
Graduation
Pet
Portrait
Real Estate
Wedding
Photographer Cost ($)
There are many types of photographers ranging from family portraits, modeling shoots, wedding events, etc. The pay for these services is wide-ranging depending on the photographer's expertise and availability. Standard photographers for example commonly are less paid than event types of photographers such as for weddings or graduations.
Hourly Rate
Wedding Photographers
Photographer Contract Samples
Sample 1 – General Photography Services
Download: Adobe PDF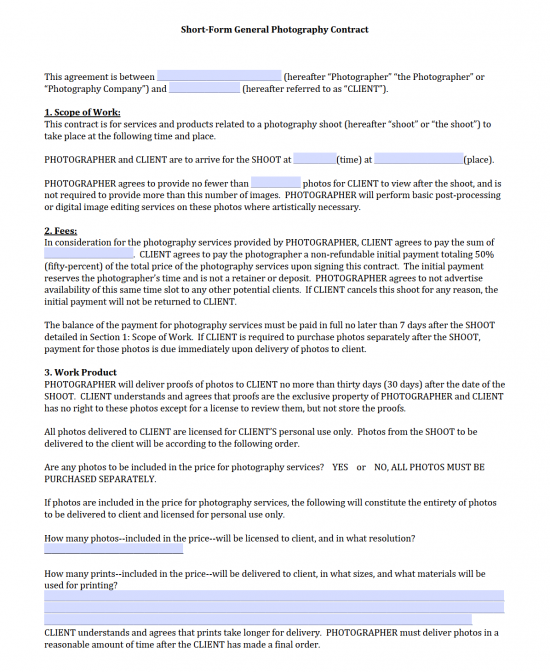 Sample 2 – General Photography Services
Download: Adobe PDF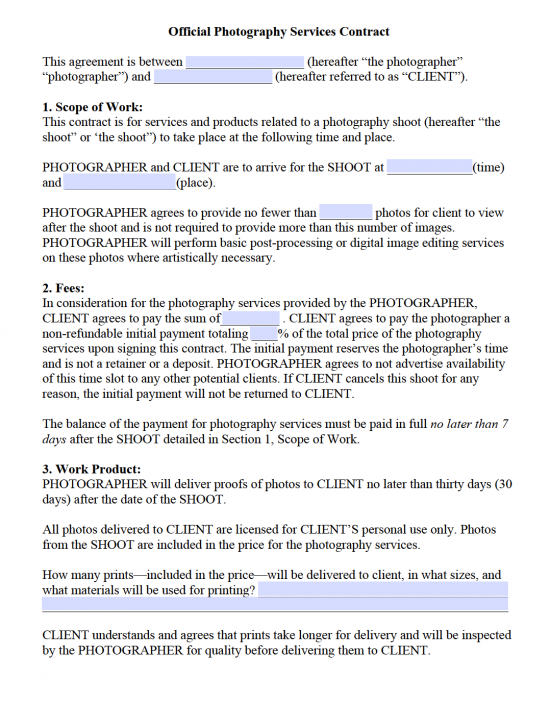 Sample 3 – Wedding Photography Services
Download: Adobe PDF