Updated September 07, 2023
A retainer agreement is a contract between a client and a professional who requires an upfront payment applied to future work. A retainer can be set up as a one-time payment or for a recurring period. The agreement will detail compensation, hours, contingencies, and any other terms for the services provided.
Engagement Letter
– An agreement that establishes a business relationship between a professional and a client.
By Type (12)
What is a Retainer?
A retainer acts as a non-refundable deposit for future service from an attorney, accountant, or other professional.
Monthly Retainer
A monthly retainer, also known as "pay for access," is when a client pays a repeated amount to a service provider in exchange for access to their services. This is common with companies that seek constant advice from accountants, attorneys, or other professionals whose services are needed on a continued basis.
How Retainer Agreements Work (4 steps)
Setting up a retainer agreement begins with a client seeking the services of someone else in exchange for payment. The retainer agreement acts as both an agreement for services and allows the service provider to collect pre-payment for future services.
2. Two Types of Retainers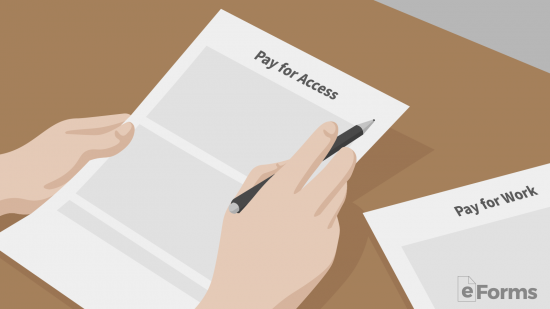 There are
two types
of retainer agreements:
A one-time payment used as an advance payment for future services.
Example: A client hires an attorney and pays a retainer to get started on a case.
A recurring payment used for an ongoing relationship between the client and the consultant.
Example: A client pays a retainer of 10 hours for accounting services every month.
What is a Contingency Fee?
A contingency fee is an amount of money that is only paid if certain parameters are met. A contingency fee allows a client to only make a payment for the services if the contingency is met. This is often seen in the legal and consulting industries.
Example
A contingency fee is mostly used when hiring an attorney to represent a client in a civil case. The attorney will most likely require a percentage (%) of the total amount received by the other party. This is especially common in personal injury cases when the attorney is negotiating with an insurance company.
Sample: Retainer Agreement
Download: PDF, MS Word, OpenDocument
RETAINER AGREEMENT
1. THE PARTIES. This Retainer Agreement ("Agreement") is made effective as of [DATE], 20[YEAR], by and between:
2. SERVICE PROVIDER: [NAME] with a street address of [ADDRESS], City of [CITY], State of [STATE], ("Service Provider")
AND
3. CLIENT: [NAME] with a street address of [ADDRESS], City of [CITY], State of [STATE] ("Client").
4. SERVICES. Service Provider agrees to provide the following Services: [SERVICES].
5. TERM. The Services shall commence on [DATE], 20[YEAR], and end: (check one)
☐ – On the date of [DATE], 20[YEAR].
☐ – At completion of the Services performed.
☐ – Upon either party may terminate this Agreement with [#] days' notice.
☐ – Other. [OTHER TERMS].
6. COMPENSATION. In consideration for the Services provided, the Service Provider is to be paid in the following manner: (check all that apply)
☐ – Per Hour. $[#] /hour.
☐ – Per Job. $[#] for the completion of the Services.
☐ – Commission. [#]% commission based on [#].
☐ – Other. [OTHER TERMS].
7. CONTINGENCY. As part of the Service Provider's Pay: (check one)
☐ – There SHALL be a contingency-fee arrangement in accordance with: (check applicable)
☐ – [#]% of [#].
☐ – There SHALL NOT be a contingency-fee arrangement as part of this Agreement.
8. PAYMENT. Service Provider shall be paid, in accordance with section IV: (check one)
☐ – On a ☐ weekly ☐ monthly ☐ quarterly basis beginning on [DATE], 20[YEAR].
☐ – At completion of the Services performed.
☐ – Upon the Client receiving an Invoice from the Service Provider.
☐ – Other. [OTHER TERMS].
9. RETAINER. The Client is: (check one)
☐ – Required to pay a Retainer in the amount of $[#] to the Service Provider as an advance on future Services to be provided ("Retainer"). The Retainer is: (check one)
☐ – Refundable.
☐ – Non-Refundable.
☐ – Not required to pay a Retainer before the Service Provider is able to commence work.
10. EXPENSES. The Service Provider is: (check one)
☐ – Responsible for all expenses. This includes, but is not limited to, supplies, equipment, operating costs, business costs, employment costs, taxes, Social Security contributions and/or payments, disability insurance, unemployment taxes, and any other cost that may or may not be in connection with the Services provided by the Service Provider.
☐ – Reimbursed for ONLY the following expenses: [EXPENSES].
Client agrees to pay the Service Provider within thirty (30) days of receiving notice of any expense directly associated with the Services. Upon request by the Client, the Service Provider may have to show receipt(s) or proof(s) of purchase for said expense.
☐ – Not required to pay for any expense in connection with the Services provided.
11. WAIVER OF CONTRACTURAL RIGHT. The failure of either party to enforce any provision of this Agreement shall not be construed as a waiver or limitation of that party's right to subsequently enforce and compel strict compliance with every provision of this Agreement.
12. INDEPENDENT CONTRACTOR STATUS. The Service Provider is an independent contractor and neither the Service Provider's employees or contract personnel are, or shall be deemed, the Client's employees.
13. STATE AND FEDERAL LICENSES. The Service Provider represents and warrants that all employees and personnel associated shall comply with federal, state, and local laws requiring any required licenses, permits, and certificates necessary to perform the Services under this Agreement.
14. PAYMENT OF TAXES. Under this Agreement, the Client shall not be responsible for:
a.) Withholding FICA, Medicare, Social Security, or any other Federal or State withholding taxes from the Service Provider's payments to employees or personnel or make payments on behalf of the Service Provider;
b.) Making Federal and/or State unemployment compensation contributions on the Service Provider's behalf; and
c.) Making payments of taxes incurred while performing the Services under this Agreement, including all applicable income taxes.
15. EMPLOYEES' COMPENSATION. The Service Provider shall be solely responsible for the benefits, unemployment compensation and workers' compensation provided to their employees.
16. INDEMNIFICATION. Service Provider shall release, defend, indemnify, and hold harmless Client and its officers, agents, and employees from all suits, actions, or claims of any character, name, or description.
17. CONFIDENTIALITY. The Service Provider acknowledges that disclosure to a third (3rd) party or misuse of this proprietary or confidential information would irreparably harm the Client. Accordingly, the Service Provider will not disclose or use, either during or after the term of this Agreement, any proprietary or confidential information of the Client without the Client's prior written permission except to the extent necessary to perform the Services on the Client's behalf.
18. ASSIGNMENT AND DELEGATION. The Service Provider may assign rights and may delegate duties under this Agreement to other individuals or entities acting as a subcontractor ("Subcontractor"). The Service Provider recognizes that they shall be liable for all work performed by the Subcontractor and shall hold the Client harmless of any liability in connection with their performed work.
19. GOVERNING LAW. This Agreement shall be governed under the laws in the State of [STATE].
20. SEVERABILITY. This Agreement shall remain in effect in the event a section or provision is unenforceable or invalid. All remaining sections and provisions shall be deemed legally binding unless a court rules that any such provision or section is invalid or unenforceable.
21. ADDITIONAL TERMS AND CONDITIONS. [TERMS & CONDS]
22. ENTIRE AGREEMENT. This Agreement supersedes any prior agreements, promises, conditions, or understandings between the Client and Service Provider. This Agreement may be modified or amended if the amendment is made in writing and is signed by both parties.
IN WITNESS WHEREOF, the Parties hereto have executed this Agreement on the dates written hereunder.
Service Provider's Signature ____________________ Date ____________
Print Name _________________________
Client's Signature ____________________ Date ____________
Print Name _________________________