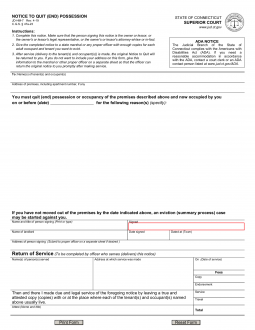 5.0 Stars | 2 Ratings
89 Downloads
Updated June 30, 2022
A Connecticut 3-day notice to quit, also known as court form JD-HM-7, is a letter used when the tenant fails to pay rent on time per the terms of the rental agreement. In the State of Connecticut, a tenant has nine (9) days to pay their rent before it is considered late. If the tenant fails to pay within 9 days, the landlord can serve a 3-day notice to pay or quit. Failure to move out within 3 days will allow the landlord to file an action in the county where the property resides.
For failure to comply with lease terms, other than non-payment of rent, the landlord must provide the tenant with fifteen (15) days' notice instead. The tenant may remedy the violation within that timeframe or face eviction proceedings after the 15th day.
Grace Period (C.G.S.A. § 47a-15a) – 9 days.
Laws – C.G.S.A. § 47a-23