Updated August 02, 2023
A homeschool letter of intent is a form used to notify the department of education that a child will be homeschooled instead of attending a public or private educational institution. Generally, this letter, or notice, of intent is straightforward in regard to formatting and content.
The parent or guardian of the child usually writes this letter (and quite often teaches the child as well) and must provide the child's name, address, date of birth, and grade in which they would be entering if they enrolled in school. In addition to this information, the letter must state who will be homeschooling the child for the following school year.
However, each state has different guidelines and, in some cases, that state's department of education may provide a specific letter of intent form for parents to complete. While a letter of intent isn't always required, it is often the first step that a parent must take to homeschool their child.
State Requirements
– Use to find out the requirements in the State the parent and child reside.
What is Homeschooling?
Homeschooling is the practice of providing education to children at home instead of in a public, private, or boarding school. Home education can be provided by a parent/guardian or an authorized teacher, depending on State requirements.
There are a number of reasons why parents may wish to homeschool their children, including dissatisfaction with the options in their school district, religious beliefs or other philosophical views, or general displeasure with the traditional schooling methods. It is possible to obtain an excellent and thorough education through homeschooling methods.
However, it is almost always necessary for the parent/guardian to have an educational degree of sorts to qualify as a reliable and qualified teacher. Other requirements for homeschooling vary quite a bit from state to state. The list below can be consulted to see if a letter of intent is required in a particular state. It's important to check with the state department of education before commencing a homeschool curriculum.
State Requirements
Sample: Homeschool Letter of Intent
HOMESCHOOL LETTER OF INTENT
Date: August 10, 2018
Superintendent (or Principal): Mr. Julian Reynolds
School District: No. 82
This letter of intent is to inform the school board that the following child(ren) will be provided with a homeschool education in lieu of attending public/private school:
Name: Charles Boyd Gender: M    D.O.B.: April 6th, 2012
Name: Emily Boyd    Gender: F    D.O.B.: January 7th, 2010
Address of Child(ren): 825 Walgrove Crescent, Scottsdale, AZ, 80234
The child(ren) will be taught by Mrs. Abigail Richmond at 825 Walgrove Crescent, Scottsdale, AZ, 80234. The following subjects will be covered during the 180 days of instruction:
Reading, writing, spelling, grammar, geography, arithmetic, science, history, and music.
I agree to maintain a portfolio of materials that demonstrate proper educational instruction provided to the child(ren) in the event that the Arizona Department of Education request such information.
Teacher Signature ______________________
Print Name ______________________
Email ______________________ Telephone ______________________
I agree that I am the legal parent/guardian of the child(ren) and hereby declare my intent to homeschool said child(ren).
Parent/Guardian Signature ______________________
Print Name ______________________
Email ______________________ Telephone ______________________
Parent/Guardian Signature ______________________
Print Name ______________________
Email ______________________ Telephone ______________________
NOTARY CERTIFICATE (IF REQUIRED)
STATE OF ______________________
COUNTY OF ______________________
On this ____ day of ______________________, 20____, before me appeared ______________________, known to me or satisfactorily proven to be the person(s) whose name(s) is/are subscribed to the within instrument, in my presence executed the foregoing letter of intent and acknowledged that they executed the same as their free act and deed.
Notary Public Signature __________________ Print Name _________________
My commission expires ______________________
How to Write
Download: PDF, MS Word, OpenDocument
I. Header
(1) Formal Date Of Intent. The date when the Parent or Legally Appointed Guardian of the concerned Minor formally states his or her intent to home school his or her Child(ren) must be documented for proper record-keeping.
(2) Superintendent (Or Principal). Some States and/or Counties will require that the Superintendent of the School District where the Minor(s) would normally attend school, that the Principal of the school where the Child would be expected to attend, or both be notified of the Student's new homeschool status. Make sure you are abreast of the statutes naming who must be informed of the Student's homeschooling status before proceeding. When ready, fill in the full name of the Superintendent or Principal where requested. If other Recipients must be named, insert a line to accommodate their names and plan to execute the appropriate number of original signed copies or generate a letter for each Recipient separately.
(3) School District. Document the School District Number to further identify the system responsible for the Child's education.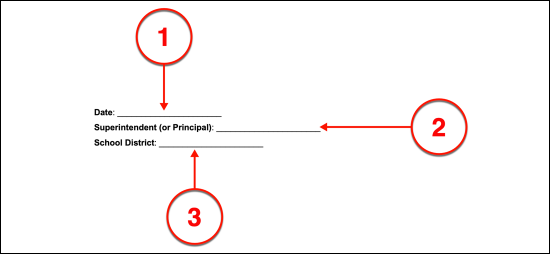 II. Concerned Students
(4) Name. To properly inform the Recipient of a Student's homeschool status, each one will need to be formally identified in this document. The full name of every Student (Minor/Child) that will receive his or her education through homeschooling should be generated in the first column of the table provided. If there is not enough room to name every Homeschool Student, insert additional lines or compose an attachment with the remaining Student names.
(5) Gender. Produce the gender of every Homeschool Student to further identify him or her to the Recipient.
(6) D.O.B. A key piece of information often used to identify an underage Student (Minor) in the Educational System set up by a County or State is the Child's official birth date. Dispense this information in the third column making sure to correspond the birth date with the appropriate Homeschool Student's name and gender.
(7) Address Of Children. Every Child/Minor who has been identified as an intended Home School Student must also have his or her address presented in this letter. If there are multiple Children with different addresses, then make sure to record each address with the appropriate Child's name. For instance, the Parents of multiple Children may be divorced and one or more Child does not live with the teaching Parent.

III. Declaration Of Intent To Homeschool
(8) Parent Or Authorized Teacher. Deliver the full name of the Parent or the Authorized Homeschool Teacher to the declaration made.
(9) Address Of Classroom. Furnish the address where the Child will physically be located to receive his or her education. This information must be included in the statement made even if the Child's home address is the same as that of the classroom.
(10) Number Of Instruction Days. Document the number of days when the Child will receive lessons to satisfy the home school curriculum.
(11) Subjects Of Instruction. Identify each subject that will make up the curriculum being taught (i.e. Biology, Music, English, Algebra, etc.).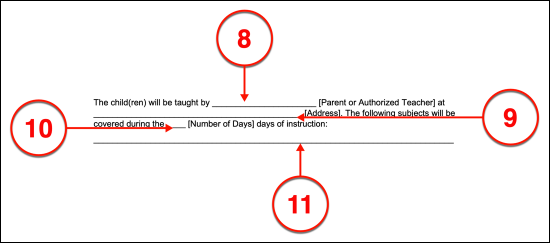 IV. Record Acknowledgement
(12) State Department Of Education. The final statement made by this letter must attest to the Teacher's record-keeping responsibilities to the State Educational System where the Children will be homeschooled. Produce the full name of the State whose laws will oversee the Child's education.

V. Executing Intent
(13) Teacher Signature. The Teacher who will conduct the homeschooling lessons each Child named in this letter will receive must sign his or her name to formally acknowledge the intended plan for the Child's education.
(14) Teacher Printed Name. The Teacher must print his or her name.
(15) Email And Telephone Number Of Teacher. It will be important that any State or County Official seeking additional information or seeking to deliver notices on educational policies is able to contact the Homeschool Teacher as needed. To this end, the Homeschool Teacher's e-mail address and phone number should be presented at the time of signing.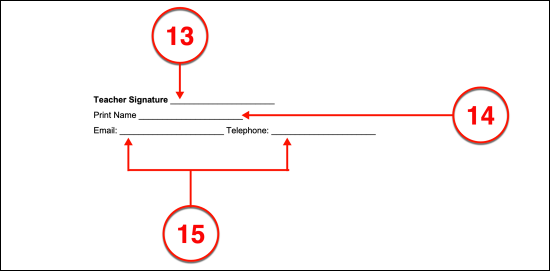 VI. Parental Acknowledgement
(16) Parent/Guardian Signature. Each Parent or Guardian of a Child named in this letter as a Homeschool Student must sign his or her name. This is required even if one of the Parents or Guardians has signed above as the Homeschool Teacher. Thus, two signature areas have been provided beneath the final declaration made so that each Parent/Guardian may submit his or her signature.
(17) Parent/Guardian Printed Name.
(18) Parent/Guardian Contact Information. Each Signature Parent or Guardian must also dispense his or her e-mail address and phone number when signing this document.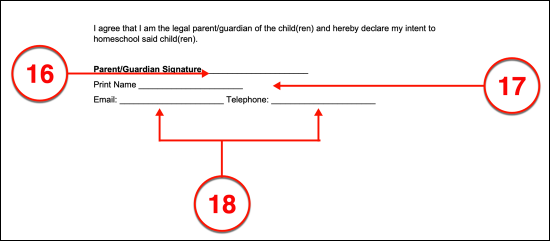 VII. Required Or Recommended Notarization
(19) Notary Public Verification. In many cases, a School System's County or State will require that this document is notarized as this will aid in verifying the identity of each Signature Party (i.e. Teacher, Parent, Guardian). It should be noted that it is recommended that this paperwork is signed by all Parties under the observance of a Notary Public regardless of whether it is a formal requirement of the concerned County or State Educational System.