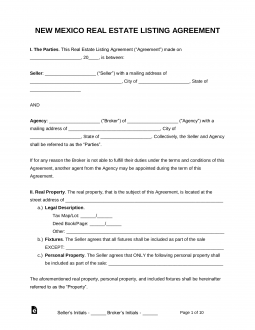 New Mexico real estate agent listing agreements enable a real estate agent to represent an individual in the sale of real property. In New Mexico, an Exclusive Right-to-Sell is the most common type of listing agreement. With this type of contract, the agent has sole responsibility for the marketing of the property in question and will receive full commission regardless of how the property sells. The terms and conditions, such as property information, price, commission, termination, rights, and obligations, will be outlined in the agreement, and all terms can and should be negotiated by both parties before the contract is signed. Another agreement option, albeit a rare one, is an Exclusive Agency agreement, wherein the seller can sell the property on their own without paying the agent a commission. The agent is still permitted to list and advertise the property, but they only receive a percentage of the sale if they find a buyer.
Agency Disclosure Form (§ 61-29-10.2) – In accordance with New Mexico real estate license law, real estate brokers must present each potential client with a disclosure statement of a broker's duties and obligations.
Dual Agency (NMREC Rule 16.61.19.10) – A real estate agent may act as a dual agent (in the capacity of a facilitator) to both buyer and seller in a real property transaction. Prior to any written agreement, both parties must provide written consent.
Estimated Tax Levy (§ 47-13-4) – Prior to a seller accepting an offer, the seller or their agent must obtain an estimated property tax levy which will show the new owner the assessment and property taxes on the property.
Property Disclosure Form (§ 47-13-2) – There is no requirement in New Mexico for the seller to disclose any information to a buyer. Although, it is recommended, as a sign of good faith, that the seller completes a property disclosure form to inform the buyer about any necessary details about the property.
Search a Licensee – Provide as much information as possible into the New Mexico Regulation & Licensing Department website to search for a real estate licensee.