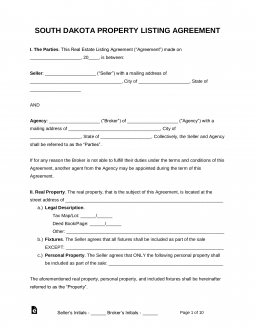 The South Dakota listing agreement is a contract that is used to establish the terms by which a real estate agent will sell or lease property on behalf of the owner. Both parties must agree to the duration of the contract and the commission that the agent will be awarded if they sell the property. This commission is often a set to a percentage of the sale amount, however, the sale commission may also be a fixed amount. Other details that can be added to the agreement include advertising methods, information disclosures, and the additional sale of personal property.
Real Estate Relationships Disclosure Form (§ 36-21A-147) – State law requires brokers to provide clients with a written disclosure that describes the types of agency and brokerage relationships that they are offering.
Dual Agency (§ 36-21A-137) – Legal with written permission from the buyer or client.