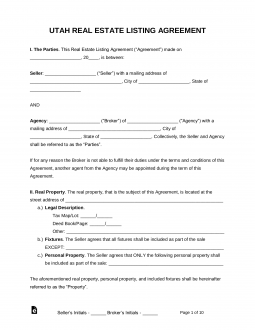 The Utah listing agreement is a legal document that establishes the terms by which a real estate broker will be authorized to sell a property on behalf of a property owner. The most common type of listing agreement is the exclusive agreement, which gives the broker a set period of time to sell the property, as well as exclusive authority to sell for that duration. If the seller enters into an open agreement, the property may be sold by any real estate broker, who will then be entitled to a commission. The contract must specify the property's listing price, the broker's compensation upon sale, the duties of the broker and the seller, a description of the property, and any additional items that will be included in the sale.
Agency Disclosure Form – Not required.
Dual Agency/Limited Agency (§ 162-2f-401a(3-4)) – Legal in Utah with the written consent of buyer and client. However, the agent cannot perform the following:
Cannot advise either seller or buyer as to the terms, offers or counteroffers
Cannot advise the buyer as to the suitability of the property, its condition (other than to make any disclosures as required by law of any licensee representing a seller)
Cannot advise either party in any dispute that might later arise relating to the transaction
Property Disclosure Statement (§ 57-23-6) – Licensed agents must use this disclosure to inform buyers of any known material defects.
Search a Licensee – Find a broker by submitting either their license number or their name and profession.