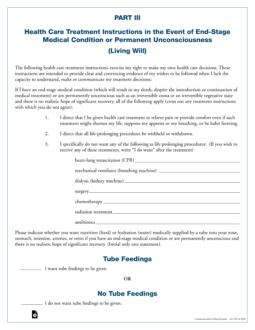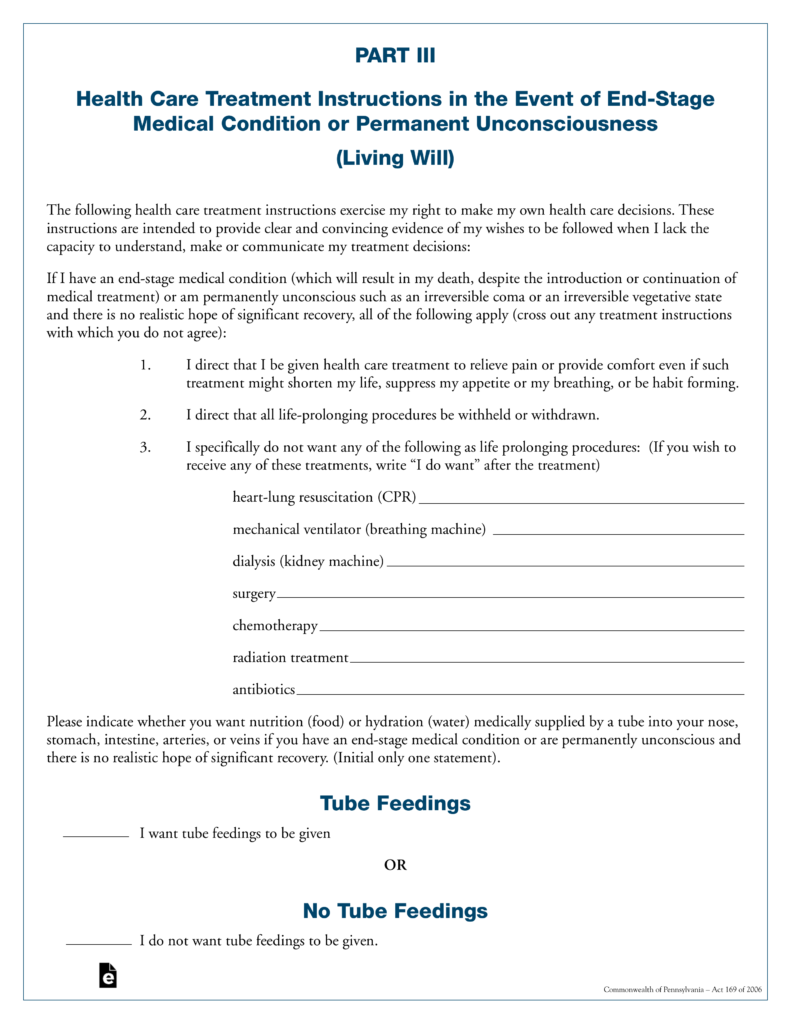 4.7 Stars | 55 Ratings
827 Downloads
Updated August 03, 2023
A Pennsylvania living will directs medical staff on how to treat a person if they should be in an end-stage medical condition. Specifically, it allows a person to write their wishes regarding life-sustaining treatment options such as tube feedings. A living will is often created with a medical power of attorney that allows a representative to make decisions on a patent's behalf.
Definition
"Living will."  A writing made in accordance with this chapter that expresses a principal's wishes and instructions for health care and health care directions when the principal is determined to be incompetent and has an end-stage medical condition or is permanently unconscious.
How to Write
Download: PDF
Step 1 – Declarant/Principal End of Life Decisions -This section addresses the decisions made by the Declarant while they are still of sound mind to decide for themselves how they would like their life to end. Begin by reading the selections provided.
All of the selections will apply unless the Declarant/Principal, writes or types in the words "I DO want" in the line(s) next to any of the selections
If the Declarant/Principal, even though there will be no chance of recovery, would like to have tube fed nutrition, initial the line stating so. If no tune feeding is desired, initial the line preceding that option.
Step 2 – Healthcare Agent – If the Declarant/Principal has chosen a Healthcare Agent, they may select whether they wish for the agent to follow their initial instructions or they may select to have the healthcare agent only use the document as guidance as to how they should proceed with any further decision making with regard to the Declarant's health care.
The Declarant may choose by initialing the line preceding their selection
Step 3 – Legal Protection – The Declarant/Principal must read the information in this section so that they will be clear that their selected agent and they health care providers will be held harmless in the act of good faith in honoring the Declarant's end of life wishes
Step 4 – Organ Donation – This area will address choices with regard to organ donation.
The Declarant may elect to donate their organs entirely
State specific donations and how they would like them to be used
OR
Elect not to participate in organ donation at all
Select by initialing the line preceding the selection
Step 5 – Signatures – The Declarant/Principal must enter their dated signature as follows:
Date in dd/mm/yyyy format
Declarant must enter their full legal name (signature) if they opt for health care power of attorney and health care treatment instructions
Witnesses may in no way be related, by blood relative, marriage,physician,creditor, heir to the Declarant's estate, employer nor the Principal themselves
With all witnesses in the presence of one another, the witnesses must enter their signatures
Step 6 – Notarization – Although notarization is optional in the state of Pennsylvania and not necessary, if the Declarant/Principal is in need of this document while in another state for any reason, the laws in other states may be more likely to honor the document with notarization.
If the Declarant/Principal opts, additionally, for notarization, the notary will complete the remainder of the document authenticating with the state seal