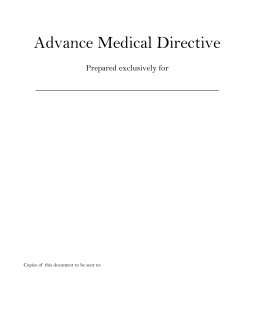 The Washington advance directive allows a resident of the State to elect someone else to handle their medical decisions on their behalf as well as outlining their end-of-life treatment options. The form combines a medical power of attorney and living will that only becomes in-effect upon the patient's incapacitation or not being able to think for themselves.
Signing Requirements (RCW 70.122.030) – Two (2) Witnesses or a Notary Public.
What is an Advance Directive?
An advance directive is a combination of two (2) forms: a Living Will and a Medical Power of Attorney.
Living Will vs Medical Power of Attorney
Living Will – Only allows a patient to make end-of-life medical treatment decisions. For example, if the patient is to be in a condition without a possible cure they may agree to withhold life-sustaining treatment such as food, water, and assisted breathing.
Medical Power of Attorney – Only allows a patient to select someone else to be their health care representative in the chance they are not able to make the decision for themselves due to incapacitation. For example, if a patient is in a coma the representative selected can begin to make health care decisions on their behalf.