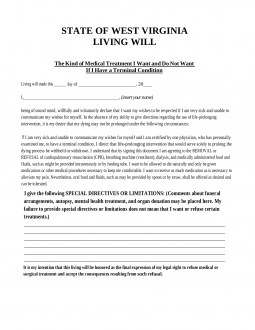 4.7 Stars | 7 Ratings
103 Downloads
Updated August 03, 2023
A West Virginia living will is a declaration that states a person's desire to die a natural death and withhold life-sustaining treatment. This is only in the event the declarant is not able to speak for themselves and is considered in an incurable condition.
Definition
"Living will" means a written, witnessed advance directive governing the withholding or withdrawing of life-prolonging intervention, voluntarily executed by a person in accordance with the requirements of § 16-30-4 of this code.
Laws
Signing Requirements – Two (2) witnesses and a notary public (§ 16-30-4(a)).
How to Write
Download: PDF
Step 1 – Preparation of Directive –
Date the execution of the document in dd/mm/yyyy format
Enter the full legal name of the declarant/principal
Step 2 – Declarant continuation of document completion – The declarant must continue to complete the next two paragraphs in order to properly educate themselves with regard to what they are preparing
Step 3 – Section C – Once the Declarant reaches section C, they must read the brief statement and respond with an "I want" or "I do not want" response by initialing the box preceding the selection.
The Declarant must then continue to carefully review the remainder of the document
Once the Declarant reaches section "G" they may write or type any additional instructions they wish to include
Declarant must then enter their signature in the "Signed" line
Step 4 – Witness Signatures – The witnesses must carefully read the statement of eligibility. Each witness would then enter their signature
Witness 1 – 
Witness 2 –