Updated August 29, 2023
A New Hampshire marital settlement agreement is a document detailing the division of property, the rights and obligations of each party, and the determination of alimony and child support as it applies to two (2) spouses getting divorced. This agreement can help make the divorce process a lot easier for the parties as it helps govern the relationship between the spouses and provides additional evidence of a mutual understanding to the judge overseeing the case. If the parties do not come to an agreement on their own after filing a divorce petition with the court, a mediator may be assigned to the case to manage fair negotiations until an arrangement is established.
Divorce Laws
Statutes – Title XLIII, Chapter 458 (Annulment, Divorce and Separation)
---
Alimony (§ 458:19-a(IV)) – The following factors are considered by the court while making alimony adjustments:
Health of either party
Degree and duration of financial dependency
Occupation and benefits thereof, and future employability
Voluntary unemployment
Special needs of dependent
Property awarded under § 458:16-a
Conduct of parties during marriage
Benefits under certain insurance programs
Diminution of significant assets
Any other reason the court deems relevant
Alimony Calculator – calculators.law
Child Support (§ 458-C) – Child support is based on income shares; the amounts shall be calculated by the department of health and human services using the guidelines in § 458-C:3(I)(a).
Child Support Calculator – Department of Health and Human Services
Division of Property (§ 458:16-a(II)) – New Hampshire is an equitable distribution state. The courts will divide property equally unless they determine this is not an appropriate or equitable division due to any of the factors mentioned in § 458:16-a(II).
Grounds for Divorce (§ 458:7) – Either spouse may petition for divorce for any of the following reasons:
Impotency
Adultery
Extreme cruelty
Conviction of a crime punishable with imprisonment for more than one (1) year
Caused injury to health or endangerment
Missing for two (2) years without contact
Alcoholic for a period of two (2) years or more
Being part of a religious sect or society that considers marriage unlawful, and has refused to cohabit for six (6) months
Refusal to cohabit, without cause or consent, for two (2) years
Interim Support (§ 458:16(I)) – After a divorce petition has been filed, the court may issue temporary or permanent conditions or limitations for one of the parties. This includes determining temporary custody of any minor children, as long as the parent's sex is not a determining factor (§ 458:16(I)(e)), and ordering a temporary allowance from one party to another (§ 458:16(I)(f)).
Residency (§ 458:5(III)) – The party filing the divorce must have lived in a New Hampshire residence for one (1) year preceding the date of filing.
Separation – Spouses are not required to be separated for any length of time prior to filing for divorce.
Divorce Forms
Uncontested Divorce with No Children:
Uncontested Divorce With Children:
Certificate of Attendance of Child Impact Seminar
How to File for Divorce in New Hampshire (5 steps)
1. File Petition for Divorce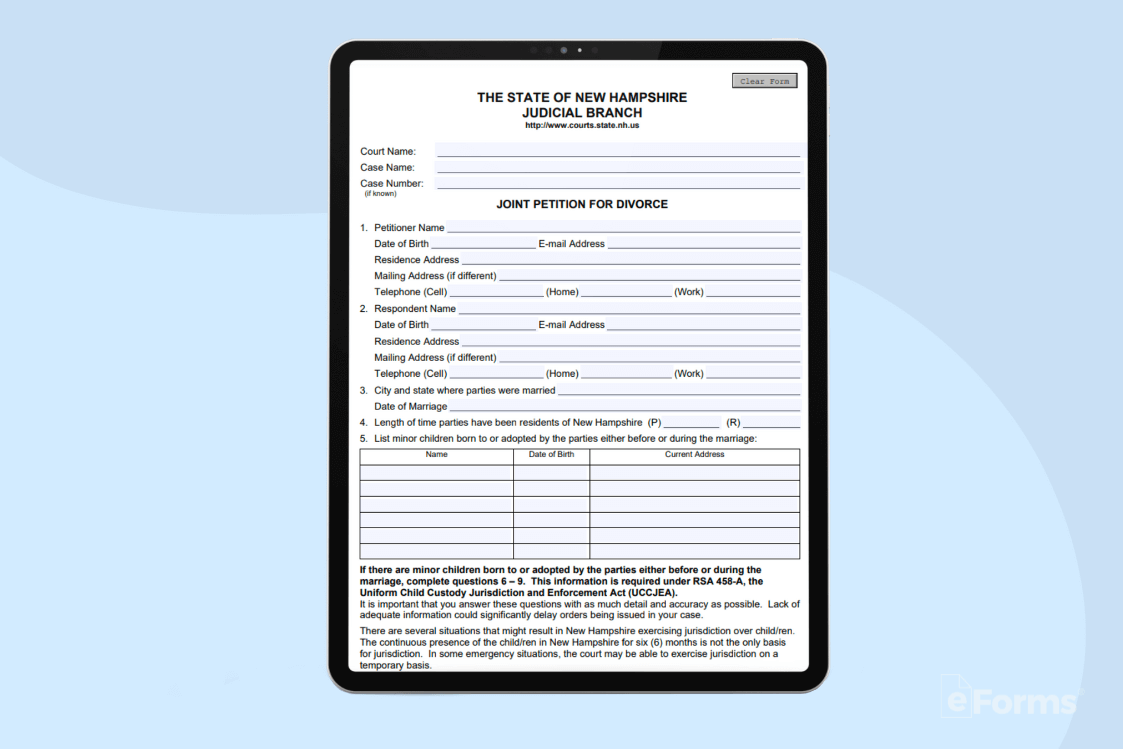 The spouses may choose to file a Joint Petition, enabling them to avoid the cost of formal service of legal papers to the non-petitioning spouse. Filing a joint petition does not necessarily mean the parties agree on the division of assets or child custody. Both spouses in this case will also need to complete a Personal Data Sheet. If the couple does not file a joint petition, one spouse can file a Petition for Divorce with their Personal Data Sheet and send the divorce papers by certified mail to their spouse. These forms must be filed with the Circuit Court Family Division along with a $250 filing fee.
2. Mandatory Disclosures
The spouses must exchange financial information and other important documents, as is required under
Rule 1.25-A
. These documents do not have to be filed with the court, but a
Financial Affidavit
must be completed by each spouse and filed with the court.
3. First Appearance
After a petition is filed, a judge will go over the divorce proceedings with the spouses. This is not a hearing, and lawyers needn't be present. If minor children are a factor of the divorce, the judge will explain the
Child Impact Seminar
, parenting plans, guardian ad litem (if necessary), and child support. Regardless of whether or not children are involved, mediation will be discussed and should be the next step in the process.
4. Mediation (If Necessary)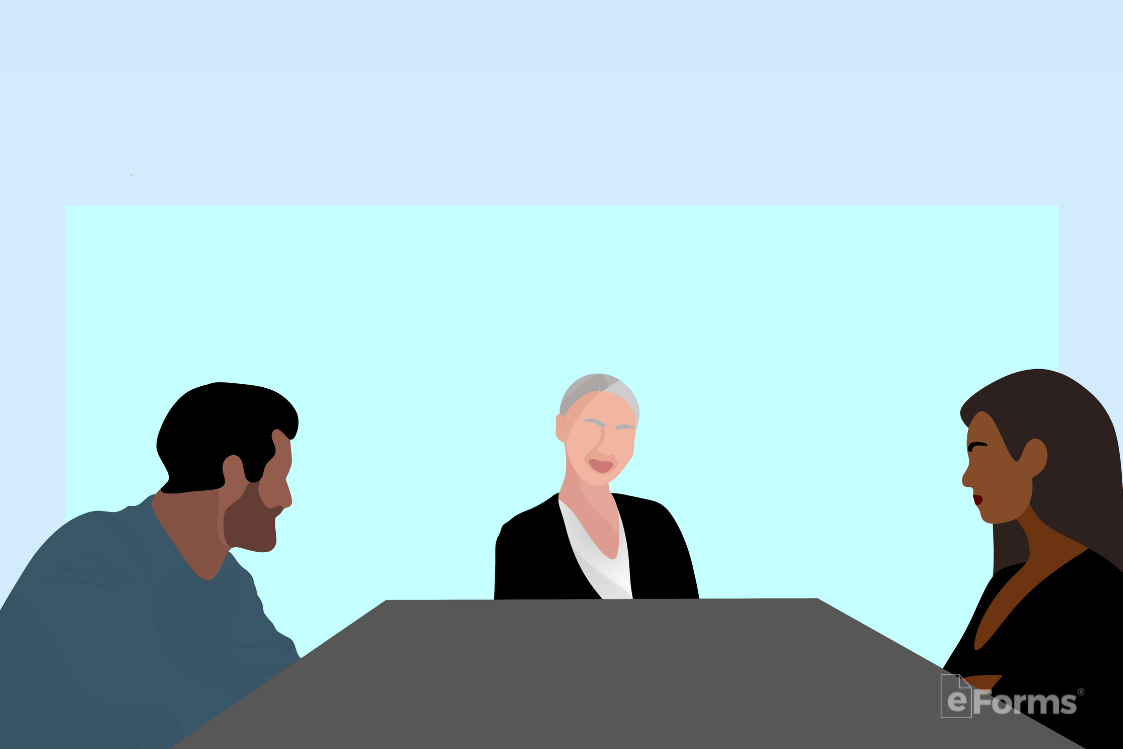 If the spouses can agree on the division of assets, property, and debts, as well as child custody and support, mediation is not necessary, and a New Hampshire Marital Settlement Agreement can be completed and filed with the court (if required). Otherwise, the court system offers mediation options for the spouses. A mediator (neutral party) will be assigned to help the parties agree upon all matters regarding their divorce. Failure to come to an agreement will result in a hearing in front of the judge, who will issue temporary orders based on presentations by both parties until the judge decides the remaining issues for them.
5. Final Forms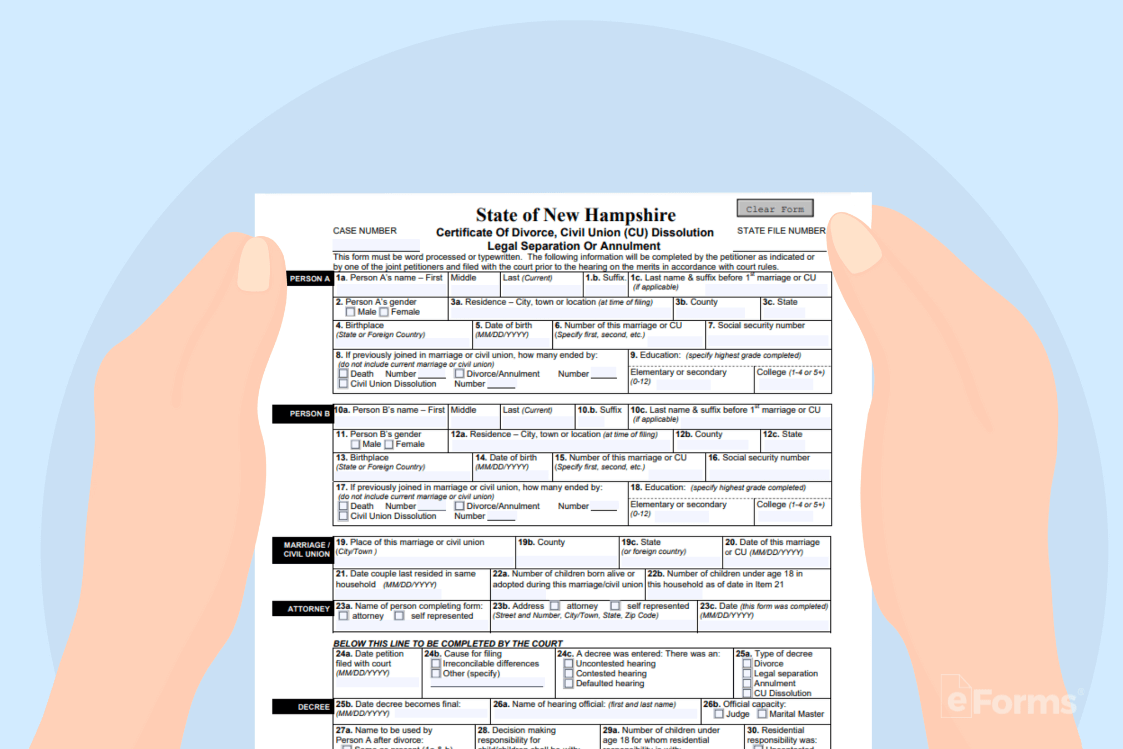 To complete the divorce proceedings, the spouses must file a Certificate of Divorce and a Final Decree. If minor children were involved, the parties must also file their Certificates of Attendance of the Child Impact Seminar, a Parenting Plan, a Uniform Support Order, and a Child Support Guidelines Worksheet. The Final Decree can be used to notify the court that one or both of the parties intend on resuming the use of their former name. Establishing the name change in the decree could help the spouse avoid filing another petition with the court to legally change their name.