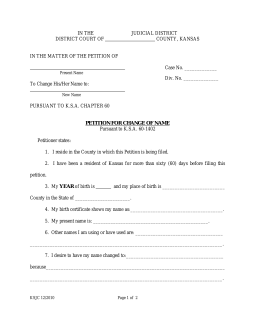 4.5 Stars | 15 Ratings
198 Downloads
Updated November 02, 2023
Kansas name change forms can be used to request a legal name change for an adult who has lived in the state for at least 60 days. These forms are not required for name changes related to marriage or divorce.
Name Change After

Marriage
Fill out your marriage license application using the new last name and file the document with the district court to obtain your license. Once the marriage ceremony has taken place, order a certified copy of your marriage certificate from the Department of Health and Environment for a $15 fee. You can use the copy as evidence of your name change when updating your social security card, driver's license, and other personal accounts.
To amend your marriage certificate to reflect a name change, follow the instructions provided by the Office of Vital Statistics.
Name Change After

Divorce
Kansas permits an individual to restore their former or maiden name upon filing their divorce action. If your divorce is pending, you can complete a marital settlement agreement and ask the court to include the name change as a provision to your divorce ruling. If your divorce proceedings have finished, you can restore your name by filing the Affidavit Requesting Order Changing Name with your local district court.
Request a certified copy of your divorce decree from the Department of Health and Environment for a $15 fee. The document serves as evidence of your name change and is permitted for use at the Social Security Administration, DMV, and other agencies.
How to Change Your Name (7 steps)
1. Civil Cover Sheet
The Civil Cover Sheet is used by the court to reference your case. Download the form, check the "Other Civil" box in the "Nature of Suit" section, and complete the Plaintiff Information section.
2. Petition for Change of Name
Complete the Petition for Change of Name form. This document will state the reason for your name change, your former name(s), your current name, and the new name that you would like to use. Fill out the form completely and provide your signature above the line titled "Petitioner, Pro Se." Make copies for your court filing and for your personal records. In order for your Petition to be considered by the court, you must have been a resident of the state for at least 60 days.[1]
3. Submit Your Petition
Go to the district court in your county and file your paperwork with a clerk. You will need to submit the original and one copy of the Petition, along with the Civil Cover Sheet. Ask the clerk for current filing fee rates. If you are unable to pay, you can request a fee waiver by filing a Poverty Affidavit.
After filing, the clerk will give you your case number and inform you of the court division assigned to your case.
5. Give Notice of Your Name Change
Depending on the notice requirement assigned to you by the court, you will either need to give notice of your name change by publication, by certified mail, or both.[2]
Notice by Publication
Contact a newspaper in your county that has been authorized by the court to publish legal classified ads (ask a clerk for this information). Fill out the Notice of Hearing by Publication form and give it to the newspaper for publication. Have the Notice published one time each week for a total of three consecutive weeks. A statement of publication will be issued by the newspaper and sent either to you or mailed directly to the court. If you receive the statement, bring it to your hearing and file it with a clerk.
Notice by Certified Mail
Start by filling out the Notice of Hearing by Mail form. Send a copy of the Notice to all interested persons by certified mail (return receipt requested); an interested person can include your spouse, children, and creditors. Ask a clerk to inform you of the court rules governing who is required to be notified. The return receipts you receive should be kept and brought to your hearing for filing.
6. Prepare Order
A judge will sign an Order for Name Change form upon the approval of your name change. Prepare the document by entering the applicable information and bring it with you to your hearing. Be sure to leave the date of order and signature fields empty.
7. Attend Court Hearing
Visit the courthouse on the date and time scheduled for your court hearing. Ensure that you have the following documents with you:
Proof of notice (statement of publication or return receipts)
Order for Name Change
Attend your hearing and await the judge's decision. If your request is approved, the Order for Name Change will be signed by the judge and returned to you. Ask a clerk to make you several stamped copies (a fee may be required). These documents will serve as legal proof of your name change.
Driver's License
If you've recently changed your name, you will need to notify the DOV and request a new driver's license within 10 days of the change. You must visit a local DOV office in person and supply the following items:
Current driver's license
Certified copy of your name change document (e.g., marriage certificate or divorce decree)
Proof of identity (see list of accepted documents)
Payment for the $12 fee[3]
Your new driver's license will then be issued by the DOV and sent to you by mail.
Note: The DOV will not allow you to change your driver's license until you've notified the Social Security Administration (SSA) and requested a new social security card. Learn how to inform the SSA of your name change.
Voter Registration
The name recorded on your voter registration information can be updated by submitting a new Voter Registration Form to your local County Elections Office. The form may be sent in by mail, fax, or hand-delivered. Alternatively, you can complete the process using the Secretary of State's online registration page.
Sources