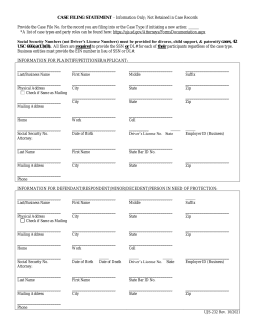 5.0 Stars | 1 Ratings
55 Downloads
Updated August 28, 2023
South Dakota name change forms can be completed by any South Dakota resident who wishes to legally change their name. Although these forms aren't necessary when making a name change after a divorce or marriage, they are required when an individual desires to change their name for other reasons. A person must be a resident of South Dakota for at least six months before applying for a name change.
Name Change After

Marriage
Both partners in a marriage have the right to change their name once they get married, but only their last name. A name can be changed after marriage by entering the intended name on the marriage certificate after the ceremony. The original certificate can be presented to government agencies when updating important documents such as a social security card, driver's license, or photo ID card. To obtain a copy of the marriage certificate, visit the Register of Deeds. The fee for copies of vital records is $15.[1]
Name Change After

Divorce
There is a section included in divorce petitions that prompts the person completing it to enter their desired last name. Enter this name here and in the divorce agreement. This will alert the judge handling the divorce proceeding. A divorce certificate can be used to update the name on file with government agencies and financial institutions. You can order a copy online, by phone, by mail, or in person.
How to Change Your Name (7 Steps)
Step 1 – Fill Out Petition
Step 2 – Notarize Petition
Wait until you are in the presence of a notary public to complete the Verification section of the Petition for Adult Name Change. You can find a notary at your local courthouse or your bank.[2]
Step 3 – Prepare Notice
Name change petitioners are required to provide notice to the general public unless doing so would put their safety at risk.[3][4] Download the Notice of Hearing for Adult Name Change (UJS-026) and complete the fields regarding your county, your current name, and your proposed new name. A judge or court clerk will sign this form.
Step 4 – File Forms
Go to the circuit court in your county and file the Civil Case Filing Statement, Petition for Adult Name Change, and Notice of Hearing for Adult Name Change with the court clerk. The clerk will assign a hearing date at least six weeks in the future and return a copy of the Notice of Hearing for Adult Name Change to you, which must be completed with the hearing information.[5]
The clerk will collect a $70 fee at the time of filing. If you cannot afford the fee, file a Motion to Waive Filing Fee (UJS-305B) to demonstrate financial need.
Step 5 – Publish Notice
Contact a local newspaper that publishes public records and ask them to distribute your Notice of Hearing for Adult Name Change once a week for the four weeks before your hearing date.[6] If you need help selecting a newspaper, contact your County Auditor. The newspaper will provide proof of publication, also referred to as an Affidavit of Publication, for you to file with the court clerk on or before the day of your hearing.
Step 6 – Prepare for Hearing
Fill out an Order for Adult Name Change (UJS-027), leaving the fields for the judge's signature and the date blank. Gather the following documents to bring with you to the hearing:
Affidavit of Publication
Order for Adult Name Change (two copies)
A copy of your current birth certificate
Step 7 – Attend Hearing
On the day of your hearing, you must personally appear before the appointed judge and present your documents. If the judge approves your request, they will sign the Order for Adult Name Change. Ask the court clerk to make certified copies to provide proof of your legal name change when you update your social security card, driver's license, and other identification cards.
Driver's License
Before updating your driver's license, complete Form SS-5 to update your name with the Social Security Administration (SSA). File the form with your local SSA office.
To update your name on your driver's license, visit a driver licensing office with your existing license, two documents demonstrating proof of residency, and your proof of name change (Order for Adult Name Change, marriage certificate, or divorce certificate).[7] You will be asked to pay a $15 fee for the new card.[8]
Voter Registration
To update your voter registration, complete a South Dakota Voter Registration Form and mail it to your County Auditor. Be sure to fill out the sections about your previous name and voter registration information.
Sources