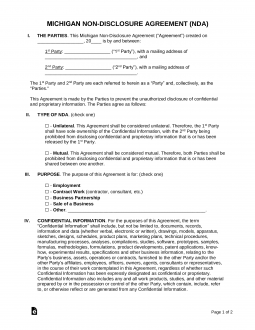 The Michigan non-disclosure agreement is a document used to bind two (2) individuals to holding and maintaining Confidential Information as described within the contract. If the Confidential Information, or Trade Secrets, get into the hands of a third-party competitor, the party responsible for the misappropriation of the company's secrets will be fully liable and the non-disclosure agreement can serve as proof to benefit the harmed party. The agreement will stay in effect until the information it protects is no longer considered confidential, or if written notice is given releasing either party from the contract.
Definition of "Trade Secret" – §445.1902 Definitions
Laws – Uniform Trade Secrets Act; Act 448 of 1998
Non-Compete Agreement – A Non-Compete Agreement is one which often accompanies a Unilateral Non-Disclosure Agreement. It protects the owner of any confidential information against the recipient, restricting the recipient from using Trade Secrets learned during their employment to compete in a similar field.
How to Write
Step 1 – Download in Adobe PDF, Microsoft Word (.docx) or Open Document Text (.odt).
Step 2 – The date that the document was completed can be submitted in the first three (3) fields of the form. The following two (2) can be used to provide the names of the parties.
Step 3 – If one (1) party has sole ownership of the information and the second is prohibited from disclosing it, check the first box of paragraph two (2). If both parties are prohibited from disclosing the information, select the second box. In paragraph three (3), enter the relationship of the first party to the second and vice versa.
Step 4 – If a party requests that materials be returned from them, the other party will have a pre-determined number of days to do so. Enter that number in the applicable space.
Step 5 – Both parties are required to sign the form and enter the date and their names.