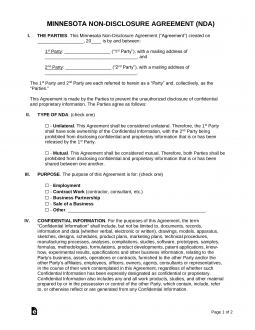 The Minnesota non-disclosure agreement is a form which binds one (1) or two (2) parties to holding and maintaining Confidential Information, protecting it from reaching third-party competitors. In the case where the contract is breached, and the company's Trade Secrets reaches the hands of a competing business, the party responsible for the leak will be held 100% reliable for all damages caused. This document serves as proof that the responsible party was aware of the confidential nature of the information in question and that they agreed to keep it secret when entering into the contract. It should be noted that Trade Secrets will always fall under the umbrella of Confidential Information; however, there are examples of Confidential Information that would not qualify as Trade Secrets but can still be covered within this contract.
Definition of "Trade Secret" – MN Stat § 325C.01 (2016)
Laws – MN Stat § 325C. (2016)
Non-Compete Agreement – A non-compete agreement allows an employer to protect his/her Trade Secrets should an employee resign or their employment should be terminated.
How to Write
Step 1 – Download in Adobe PDF, Microsoft Word (.docx) or Open Document Text (.odt).
Step 2 – Supply the names of both parties after entering the date.
Step 3 – If the agreement is Unilateral, and one party has sole ownership of the information, select the first box. If both parties have ownership of the information, select the second box. Supply the relationship of Party A (the 1st party) to Party B (the 2nd) and vice versa.
Step 4 – If materials are requested by one party, the other party will have a set number of days in which to return them. Enter this number into the field of this section.
Step 5 – Before the contract can be considered effective, both parties must provide their signatures, they must both date it, and they must both print their names.