Updated December 13, 2022
A Nebraska non-solicitation agreement is an agreement between two parties — usually an employee and an employer — that is intended to protect the business's interests and proprietary information. It sets certain restrictions on the employee's ability to solicit the company's clients, personnel, contractors, and other business relationships for their own benefit after leaving the company. These restrictions are only enforceable in a specific geographic region and for a specific time period. 
What Types of Solicitation Can Be Prohibited?
In Nebraska, a non-solicitation agreement can be used to restrict an employee from soliciting, recruiting, or associating with the employer's:
Former or current customers/clients
Former or current employees
Independent contractors
Business associates, suppliers, etc.
What Should Be Included in the Agreement?
A non-solicit covenant typically contains limitations regarding the following:
1. Time Limit
The duration of the covenant, which typically begins when the employee's job is terminated, must be considered necessary for the sake of protecting the employer's business interests. It typically ranges from several months to a few years.
2. Geographical Area
The agreement must specify the location or area where the ex-employee is prohibited from engaging in the restricted activities. Typically, the specified area is the city or county where the employer is based.
3. Restricted Activities
The scope of restricted activities as listed in the agreement can range from soliciting specific parties to contacting any and all parties associated with the employer.
Related Forms
---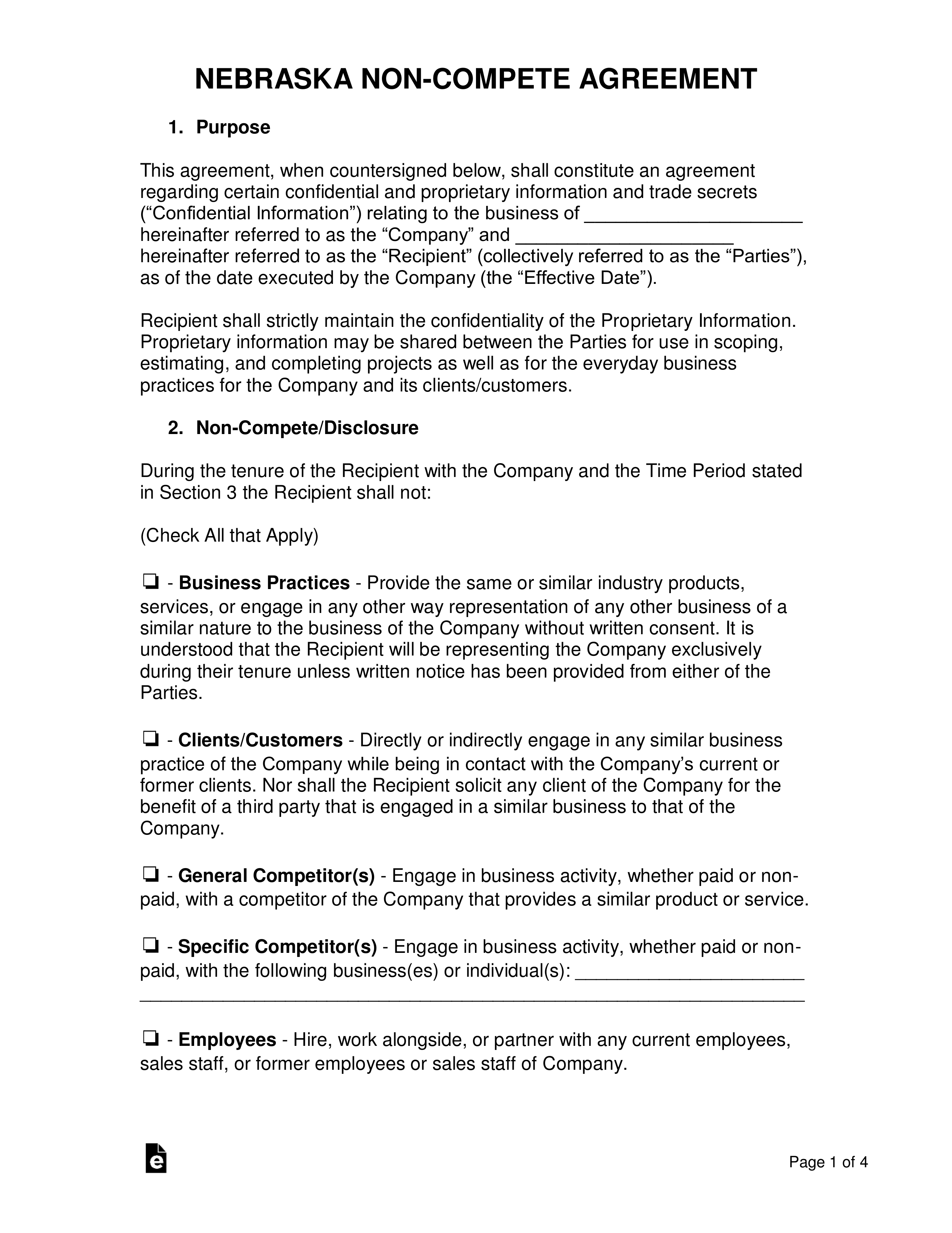 Nebraska Non-Compete Agreement
Download: Adobe PDF, MS Word, OpenDocument
---
Nebraska Non-Disclosure Agreement
Download: Adobe PDF, MS Word, OpenDocument
---