Updated August 31, 2023
An Arizona notary acknowledgment form is used by a public official to certify an individual's signature on a document. There are a number of documents that may require notary acknowledgment, mostly legal agreements, estate administrations, and property transactions. The individual(s) presenting the document must declare that they have included their signature(s) under their own free will, at which point the notary will verify the identities of all parties involved. It is not necessary for signatures to be completed in front of the notary; however, signing in front of a notary could avoid future complications or delays. Upon verification of all identities and signatures, the notary will sign, date, and include their stamp/seal on the acknowledgment form.
Laws – A.R.S. § 41–251
How to Notarize in Arizona (5 steps)
1. Find Notary
Often the business or entity an individual is dealing with will have a notary under their employ. If not, one of the following places will have a notary public available:
Banks and Credit Unions (Chase Bank offers the most branch locations in Arizona)
Verify a Notary in Arizona (4 steps)
Step 2
To perform a notary search, the last name (or a part thereof) and ZIP code or county must be provided. Searches can be refined by entering more information, including first name, notary ID, commission expiration, and business name. Click
Search
to obtain results.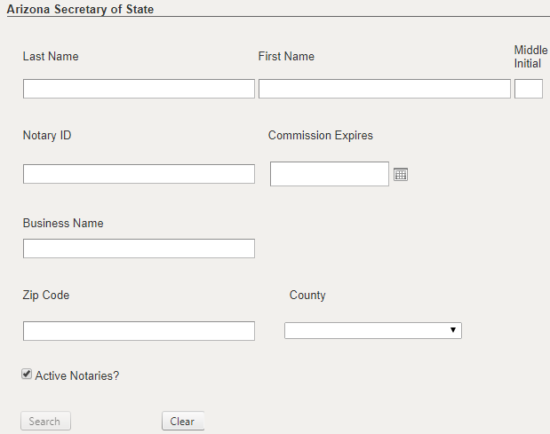 Step 3
Results will appear in alphabetical order and will include the number, full name, status, business name, city, Zip code, and expiration date of each notary public.

Step 4
Selecting a notary public from the list and clicking
View
will display further details on the officer, including their address, business hours, phone number, and commission details.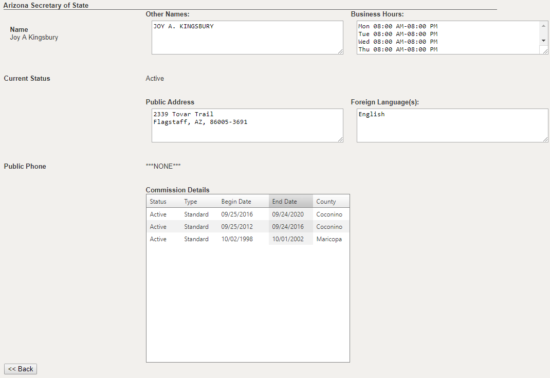 How to Write (For Notary)
Step 1 – Download form in PDF, Microsoft Word, or ODT.
Step 2 – Enter the following information on the form:
County
Date
Name
Signature
Title/rank
Serial number (if applicable)
Include a seal or stamp on the form and ensure that it is clearly visible.