Updated September 01, 2023
A Louisiana notary acknowledgment form is a statement attached to a document certifying the authenticity of the signatures therein. Typically used when notarizing a legal document, an acknowledgment form is completed by a notary public once they have performed the necessary duties. These duties include verifying the identity of each signer and ensuring that they have signed (or are signing) under their own free will. Each signer must personally appear before the notary and, unless the notary can verify their identity through personal recognition, the signer must produce a piece of identification. When getting a document acknowledged, it can be presented to the notary with the signatures already included within. Some choose to wait and sign in front of the notary, but this is not a requirement. The document is considered acknowledged once the notary has filled out the acknowledgment form complete with signature, which acts as the notary's seal (Louisiana Administrative Code 46:XLCI.131).
Laws – § 35-511
Notary Handbook – A helpful reference pertaining to the laws, regulations, and proper procedures of commissioned officers (notaries) in Louisiana.
How to Notarize in Louisiana (6 steps)
1. Find Notary
Locate a notary public in your County; one of the following options is a good place to start:
Banks and Credit Unions (Chase Bank is a good option as they have the most locations in the State)
Verify a Notary in Louisiana (4 steps)
Step 2
Searches can be performed by Name, Zip Code, Notary Number, or Bar Roll Number. Enter the appropriate information and click Search.
Step 3
The search will return a list of any matching records.
Step 4
Click on a notary's name to view details including contact information, notary number, and agency.
How to Write (For Notary)
Step 1 – Download the Louisiana Notary Acknowledgment Form in PDF, Microsoft Word, or ODT.
Step 2 – Enter the name of the Parish in which this document is being notarized. Provide today's date as well as the name of the person being acknowledged.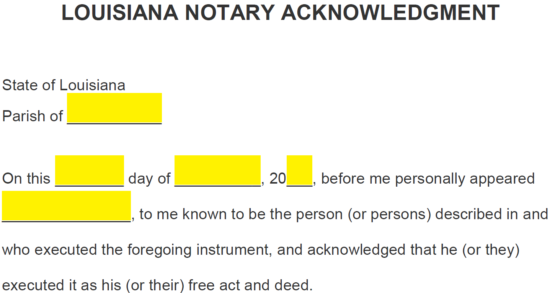 Step 3 – Include signature, title/rank, notary ID number, or attorney bar roll number at the bottom of the acknowledgment form.